Putin perplexed over Tymoshenko prison sentence
Published time: 11 Oct, 2011 14:56
Edited time: 11 Oct, 2011 18:57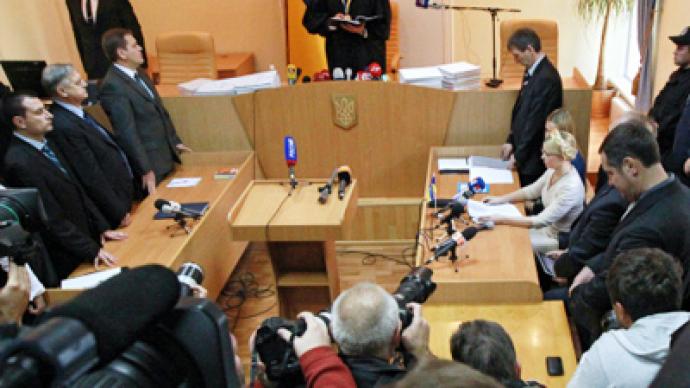 Prime Minister Vladimir Putin expressed confusion on Tuesday over the prison sentence handed down to former Ukrainian PM Yulia Tymoshenko, adding that it was dangerous to doubt the validity of the gas contracts.
­"I have not studied the court verdict, but judging by media reports the conviction was over her taking part in the signing of the Russia-Ukraine gas deals," Putin told reporters on Tuesday in Beijing. "Tymoshenko did not sign anything, however, and the contracts were signed on the corporate level – by Gazprom and Naftogaz."

"We used exactly the same formula for calculating the gas price that we use for similar contracts with our European partners. The very same formula," Putin said.

The Prime Minister stressed that he had no personal sentiments towards Tymoshenko.
"Tymoshenko is neither a friend nor a relative to me," Putin said. "More than that, she is more of a political opponent, because she has always been, relatively speaking, a western-oriented politician."

The Russian Prime Minister added that it was "dangerous and counter-productive to doubt the existing gas contracts" between Russia and Ukraine.
A court in Kiev on Tuesday sentenced Yulia Tymoshenko to seven years in prison for an abuse of her office. The court ruled that the former prime minister had overstepped her authority in 2009 by signing a gas contract with Russia, which the current government says was unfavorable to Ukraine.
Ukrainian authorities now threaten to take Russia to the international arbitration court and many analysts and politicians see the Tymoshenko trial as a PR move preceding this.
Tymoshenko maintains that she acted in Ukraine's interests and says that the current process is politically motivated.
Meanwhile, the Russian Foreign Ministry on Tuesday issued a statement saying that the Tymoshenko verdict was an attempt to revise the gas agreement and generally an anti-Russian move.
The European Union also sharply criticized Ukraine over the Tymoshenko trial and threatened it with consequences if Kiev does not return to "principles of democracy and rule of law."