Putin to United Russia – Time to earn our voters' trust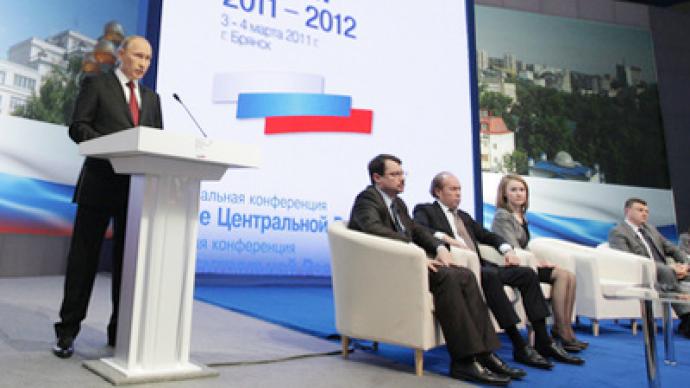 Politicians seeking to run in the Russian parliamentary elections should make public not only their income statement, but their expenses as well, Russian Prime Minister and Head of United Russia party, Vladimir Putin has suggested.
Speaking at a United Russia conference in Bryansk, dedicated to the upcoming elections to Russian State Duma, scheduled for December, Putin stressed the need for transparency and proclaimed that corrupt politicians were unwelcome at the election. "We need decent, professional, efficient people," Putin said.A lot is being said about fighting corruption in Russia these days, the prime minister said."There is a plan to scrutinize not only the income, but also candidates' expenses. We need to think of tools [required to implement this idea]", he added.Prime Minister Putin stressed that the elections program of the United Russia party must have key objectives for development for every subject of the Russian Federation. He added that people will understand, only if the whole party program includes special articles for every region.  Putin said that the party would conduct a final vote on its electoral list and on the elections at its convention in April. "The party has done a lot to come to this event fully prepared. Thanks to United Russia, a bill introduced by the party on political parties' equal access to mass media, lowering the threshold for getting representation in the State Duma passed through parliament. Why am I saying this? Because only a political force that is based on a clear understanding of its voters' demands and not on support of high-placed officials and bosses, only a political force that senses people's moods and can meet their expectations, only such force can win in the end," the Prime Minister said. "It not only wins some seats but wins in the political sense, gets the mandate of trust, which it can use in the correct way, to conduct the policy it sees necessary, right and needed by the country," he added. Putin said that these principles must be United Russia's position – only with this attitude, will it be making the right decisions.
You can share this story on social media: