Putin 'will sign' bill banning US adoptions of Russian kids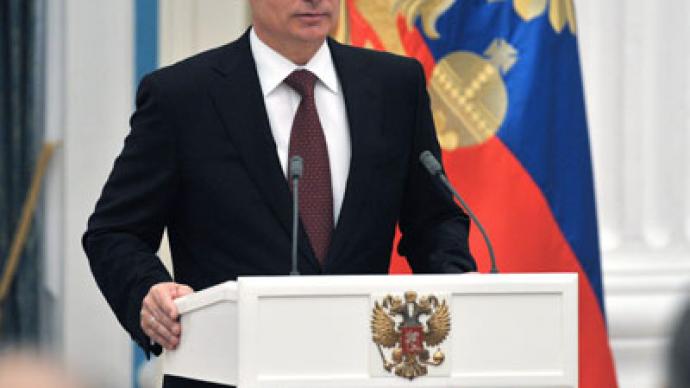 President Vladimir Putin has told Russia's State Council that he saw no obstacles to signing so-called Dima Yakovlev Bill that bans adoption of Russian children by US citizens.
Also the President said that he will thoroughly study the final draft of the document and weigh all the details. He promised to sign a state program together with the ban that would improve the life of orphans and boost domestic adoption. The Russian leader added that there are a lot of countries where living standards are higher than in Russia, but this is hardly a reason to allow uncontrollable adoption. "What of it? Shall we send all our children there? Maybe we should also move there ourselves?" Putin asked ironically. Speaking to the State Council Putin once again reiterated his position that the bill on the adoption ban is not aimed at orphans or future adoptive parents, but against the US authorities "who give no access whatsoever to the adopted children and are acting with extreme arrogance". According to Putin, Russia should follow the example of Israel that does not send its children to other countries, despite being in a complicated security situation. The Russian President said the Republic of Chechnya can also be viewed as an example as there is practically no abandoned orphans in the region, the children's distant relatives raise them in their own families. On Thursday the head of Russia's presidential administration, Sergey Ivanov, told the press that the Dima Yakovlev bill had arrived at his department and was being prepared for signing. Russia's Upper House approved the Dima Yakovlev bill on Wednesday by a unanimous vote. The bill is Russia's reply to the US Magnitsky Act – the recently approved bill imposes an entry ban and an asset freeze on Russian law enforcers and officials allegedly complicit in the death of a Russian citizen who worked for a British investment fund and died in custody while under investigation over tax fraud. Russia's reply also imposes an entry ban on US citizens who are involved in violations of Human Rights and crimes against Russians. In addition, it bans US NGOs access to Russia and US citizens from working in Russian NGOs and forbids the direct or indirect adoption of Russian children by US citizens. It was the adoptions ban that has caused most protest and controversy. Critics claim the ban is targeting innocent people and that it will harm Russian orphans by depriving them of a chance to find new families. Advocates of the ban replied that it was targeting not the would be adoptive parents and children, but the US legal system that had been treating cases of cruel treatment and even manslaughter of Russian children in US families with inadmissible leniency.As the parliament started considering the ban, many Russians demonstrated near the State Duma HQ that resulted in arrests. Others collected over 100,000 signatures in support of the amendment's cancellation (the law obliges the Russian Parliament to treat any petition with such support as an official legislative initiative). Foreign Minister Sergey Lavrov, Social Policies Minister Tatyana Golodets and Science and Education Minister Dmitry Livanov also spoke against the bill as did the top Human Rights officials.
United Nations Children's Fund has officially asked the Russian Government to be guided solely by the best interests of children in determining its policies and actions.One of the staunch supporters of the adoption ban, Russian ombudsman for children's rights Pavel Astakhov, has stated that after Russia approves target programs on orphan support, it will be possible to cancel all international adoptions in the country. Such programs were promoted by President Putin and the Lower House has already created a commission to start developing them. Astakhov added that within five to seven years domestic adoption will become so widespread that Russia will be able to close all of its regular orphanages, leaving only those that host seriously ill or troubled kids. "We have already stepped on this path and we have no intention to turn from it," Astakhov announced.