Putin says sanctions against Belarus are useless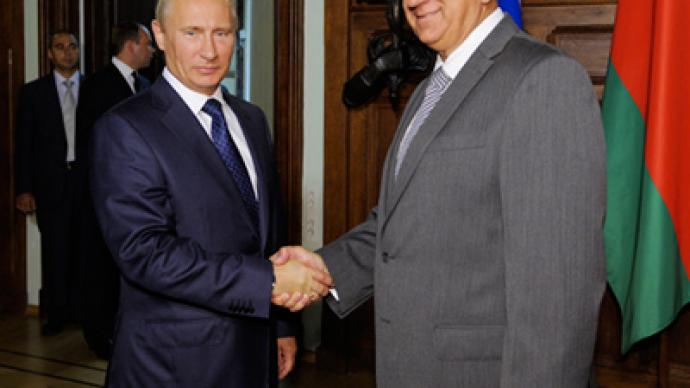 Russian Prime Minister Vladimir Putin has said that economic sanctions were not an effective means to resolve political issues and pledged further economic support to Belarus.
Putin made this statement on Monday at a press conference in Moscow that followed talks with Belarusian Prime Minister Mikhail Myasnikevich. The two officials discussed economic cooperation between the two nations as well as the ongoing creation of the Russia-Belarus Union State. In response to a question regarding the growing pressure on the Belarusian authorities in the form of economic sanctions, Vladimir Putin said that time and time again, economic sanctions not only failed to reach the objectives of those who used them, but often lead to the exact opposite result.  "Belarus is living through a difficult economic period, this is also connected with the consequences of the international financial crisis, we should not forget about this. But Belarus will make it through these difficult and turbulent times, I have no doubt about it," Putin told reporters.Putin said that he did not find it reasonable for Russia to react in any way to other countries' actions towards Belarus, but said that "everything that we do within the framework of integration will unconditionally support the Belarusian economy".The Russian prime minister also said that Russia and Belarus must coordinate their economic efforts in every way possible, adding that many mechanisms for this coordination are already working, like the anti-crisis fund of the Eurasian Economic Community that used part of its $10 billion budget to support the crisis-hit Belarusian economy. Putin's counterpart Myasnikovich agreed that cooperation between the two countries was on the rise and gave several examples of cooperation in the industrial sector.  Last week the United States imposed new economic sanctions against Belarusian enterprises as a punishment for the Belarusian government's crackdown on the opposition. "The sanctions are a response to the continued incarceration of political prisoners, the crackdown on political activists, journalists, and civil society representatives," State Department spokeswoman Victoria Nuland said.Earlier this year, the US imposed a visa ban on Belarusian President Aleksandr Lukashenko and several other state officials, while also ordering a freeze on their assets in the US.Several European nations also banned top Belarus officials from entry.
You can share this story on social media: