Putin's Party steamrolls across Russia in parliamentary elections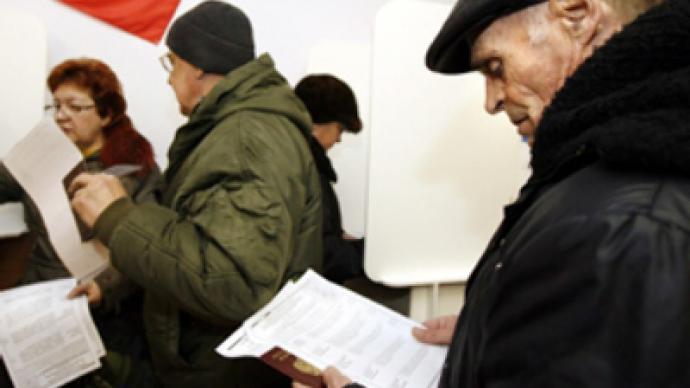 United Russia has emerged victorious in the nine regional parliamentary elections that took place on March 1, according to early results from the Central Electoral Committee.
However, some opposition parties are crying foul, alleging fraudulent vote counting.
In total, the pro-Kremlin United Russia party has pulled over 42 per cent of votes across Russia, with the Communists coming in second with 20 percent.
In seven of the nine polled regions, United Russia, which is led by Prime Minister Vladimir Putin, made an impressive turnout with over 50 per cent of the votes.
In Kabardino-Balkariya and Karachay-Cherkessia, two regions in southern Russia, United Russia received 70 percent of the votes; the results were even more impressive in Tatarstan, Volga District, where the pro-Kremlin party won 90 percent of the votes.
In two regions United Russia scored less than 50 per cent. In the Volgograd Region, southern Russia, the party received 49 per cent of the votes; in Nenets Region, Northwestern Russia, they scored 42 percent.
Second place went to the Communist Party in six of nine regional parliaments. In Tatarstan about 10 per cent of voters remained loyal to the Communists; in Khakassia – about 15 per cent support them and in Bryansk Region – little more than 10 per cent voted for the Reds. Vladimir Region, Central Russia, and the Communists did well in Volgograd Region, Southern Russia and Nenets Region receiving 28 per cent, 24 per cent, and 20 per cent respectively.
In Karachay-Cherkessia (10,4 per cent), Kabardino-Balkariya (8,3 per cent), and in the Arkhangelsk Region (16,6 per cent) Communists have taken third place. The second place in these regions went, accordingly, to the Patriots of Russia (11,2 per cent) and Fair Russia (12,2 percent and 17,8 percent) respectively.
At the same time, the Communist party has declared its disappointment with the results of the elections. Communist leader Gennady Zuganov has already stated that "Vladimir Churov, [the head of the Central Electoral Committee], no longer sits in his place".
The Liberal Democratic Party has scored its best in Nenets Region, receiving almost 20 per cent of votes. In all other regions except Tatarstan and Karachay-Cherkessia, the party has overcome the minimum electoral barrier of 7 per cent and has scored from 8,5 to 10,5 per cent.
Vladimir Zhirinovsky, the head of Liberal Democrats, has demanded the entire Central Electoral Commission by replaced. His colleagues claimed many laws were broken during these elections and now they further allege the results have been forged.
According to their calculations, actually, United Russia, the Communist Party and the Liberal Democratic Party should have received 30 per cent each. "And Fair Russia would not have won at all," Zhirinovsky added.
Patriots of Russia and Fair Russia also made it to the regional parliament of Khakassia (7 per cent each). Fair Russia has also scored about ten per cent in each of the other regions.
In other turnouts, 55 percent of the voters showed their support for Putin's party. In the Arkhangelsk Region, Northwest Russia, United Russia scored over 50 per cent; in Bryansk Region, Central Russia, almost 55 per cent and in Vladimir Region, Central Russia, around 50 per cent.
On March 1, the elections took place in the 79 federal districts of the Russian Federation.
You can share this story on social media: