Stereotypes versus facts: Cold war clichés in fashion again?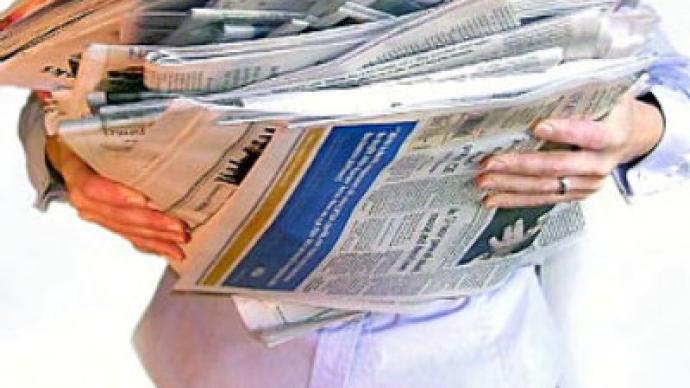 Russian government spokesman Dmitry Peskov has criticized the organization Reporters Without Borders for describing Prime Minister Vladimir Putin as an enemy of a free press.
The spokesman made it clear that the media organization is preoccupied by stereotypes and does not want to see the changes now underway in Russia.
The decision of Reporters Without Borders (RSF) to include the Russian prime minister among the world's freedom predators is totally wrong, Peskov said on Tuesday.
The list also includes Kazakh President Nursultan Nazarbayev, Iran's Mahmoud Ahmadinejad, China's Hu Jintao, Belarus's Alexander Lukashenko and North Korea's Kim Jong-il. The president of the Russian North Caucasus republic of Chechnya, Ramzan Kadyrov, became the second Russian politician ranked on the list.
"Unfortunately we don't know the criteria, on the grounds of which these conclusions were drawn," Peskov was quoted by RIA Novosti news agency as saying. "But they are absolutely wrong," he added.
RSF accused Putin, "the former KGB officer", of exerting control over all aspects of life in Russia where "the national TV stations now speak with a single voice."
"It's hard to tell whether this mistake has come as a result of the deeply-ingrained stereotypes about everything related with Russia or is a consequence of the lack of information," Peskov noted.
"Over the last ten years Vladimir Putin has done much so that mass media became more economically independent and more free," Peskov said.
The Russian prime minister has spoken about press freedom on several occasions. Answering critics' accusations of controlling mass media, then-President Putin said during an online conference in July, 2006 that "it is impossible to control everyone."
"Without developing democracy, without freedom of press, without the development of civil society's institutions, Russia has no future," Putin stressed.
There is only one TV company in Russia that conveys the state's point of view, Putin said, referring to Rossiya TV channel.
Speaking with ZDF TV channel in July 2006, Putin said: "If you had seriously analyzed our mass media and critical notes [about the government], you would have discovered that that their numbers are great."
Russia did not have a free press in the past, Putin told NBC at the same time. "First we had the tsarist regime, then we had communism, and beginning in the 1990s we entered a new era in our lives," he noted.
"Concerning media freedom, you named three national channels, but do you realize how rapidly digital television is developing here, cable television and local and regional television in general?" Putin asked.
"We have more than 3,500 television and radio companies here in Russia and state participation in them is decreasing with every passing year," he noted. "As for print media, there are more than 40,000 publications and we could not control them all even if we wanted to."
In November 2002, Putin vetoed restrictive amendments to the Law on the Struggle with Terrorism and the Law on Mass Media that were passed by the parliament. The amendments would curtail the press's ability to report in times of crisis, specifically on military actions in Chechnya.
Representatives of Russia's state and independent media, as well as press freedom groups, asked Putin to veto the amendments and pledged to develop a code of conduct for covering crises. The decision was then welcomed by such organizations as the New York-based Committee to Protect Journalists.
Asked by ZDF in 2006 why such organizations as RSF puts Russia alongside Saudi Arabia and Cuba in terms of press freedom, Putin promised to "analyze this criticism." However, he noted that the "the ability to manipulate public opinion is not less developed in Western countries with the so-called developed democracies than in Russia." Civil society should do everything "to oppose these tendencies," he noted.
Chairman of Russia's Journalists' Union Vsevolod Bogdanov does not consider the Russian prime minister the enemy of freedom of press. Putin has changed seriously his relationship with media in recent years, he told Kommersant daily.
Russian mass media has more ill-wishers than blunt enemies, Bogdanov noted. "There are certain young deputies who [are trying to restrict freedom of press]," he said. "In Russia there are more problems with freedom of hearing because officials do not react to journalists' reports despite the fact that they have to do it."
You can share this story on social media: