Putin's rating climbs to 5-year peak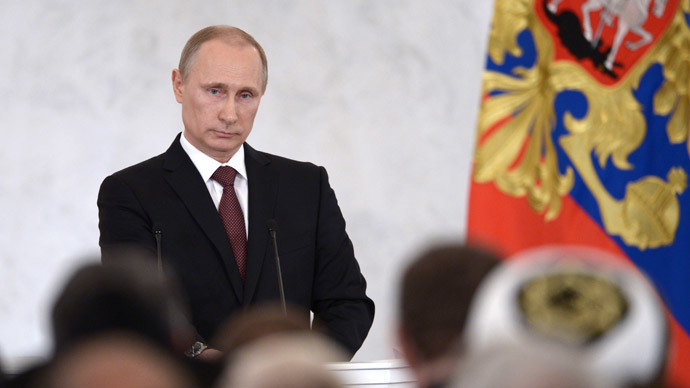 Over three quarters of the Russian public approve of President Putin's work, according to the mid-March public opinion poll. Most respondents connected with a good handling of the Ukrainian political crisis and the help extended to the people of Crimea.
According to the VCIOM All-Russian Public Opinion Research Center, since the beginning of 2014 Vladimir Putin's rating has risen 15 percent and stands at 75.7 percent – the highest in the last five years.
The pollsters say this is caused first of all by the complicated political situation in Ukraine and the Autonomous Republic of Crimea that was preparing to hold a referendum on joining Russia. 63 percent of respondents mentioned this as a primary reason of their support of the presidential course.Another large group - 32 percent - mentioned the victory of the Russian team at the Sochi Paralympics.
Putin's rating in major cities was slightly lower at 71.3 percent but also reached a five-year peak.
The previous peak in Vladimir Putin's popularity was in May 2012. 68.8 percent of Russians voiced their support for the president around the date of his inauguration.
A different poll conducted by VCIOM on March 14 and 15 showed that 91.4 percent of Russian citizens approve of Crimea becoming a part of the Russian Federation. Only 5 percent said they were against such an outcome. 86 percent of respondents claimed they already consider Crimea - home to an ethnic Russian majority - a part of Russia.
Crimea was caught in the turmoil that engulfed Ukraine after opposition leaders supported by rightist extremists ousted President Viktor Yanukovich in late February this year. On March 16 the republic held a referendum on joining Russia in which over 96 percent of voters supported such a move.
Vladimir Putin addressed the Federal Assembly on March 18 pledging full support to Crimeans and praising their decision to return to Russia after about 60 years of separation. On the same day the Russian President and Crimean leaders signed a treaty that makes the Autonomous Republic of Crimea and the city of Sevastopol new parts of the Russian Federation.
After the ceremony Putin asked Russian parliamentarians to ratify the treaty as fast as possible.
The Lower House will hold a vote on ratification on Thursday and the Upper House is scheduled to vote on Friday.
You can share this story on social media: