Putin suggests who could be Russia's 'politician # 2', has nothing to say about successor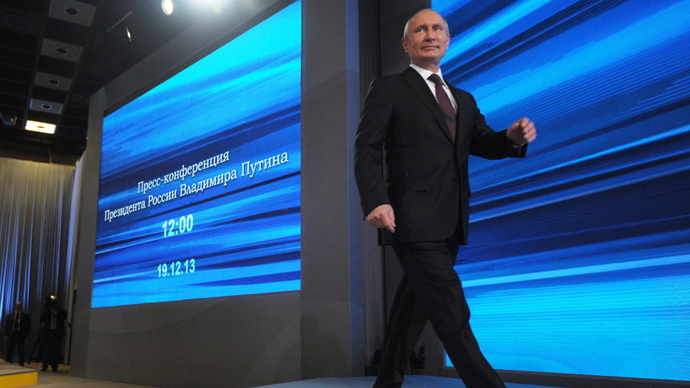 When asked who he believes is "politician # 2" in Russia, Vladimir Putin mentioned various politicians, including the Communist Party's Gennady Zyuganov, the Liberal Democratic party's Vladimir Zhirinovsky.
However, the president refused to shed light on who his successor might be, saying: "There's nothing to talk about."
The answers came as part of Putin's big annual press conference, attended by some 1,300 journalists this year.
Putin had to explain why the first person he mentioned among the country's most influential politicians was the leader of the Communist Party, as the answer led to smiles in the audience.
"Millions of people vote for him, he is a famous politician, he has his own views. I do not agree with many of them, I do not share them, but many of them seem to me quite realistic, especially those on the international affairs or on social issues," Putin said.
He described the leader of the Liberal Democratic party, Vladimir Zhirinovsky, as a "provocative" politician, but one possessing many "sound proposals." The president also mentioned the leader of the Fair Russia party Sergey Mironov, his one-time protégé, who Putin said has now turned into "an independent politician."
He also noted the work of Dmitry Medvedev as head of the United Russia party.
"Listen, we have the leading political power, the ruling party, headed by Dmitry Medvedev," Putin said. "He has a huge experience of political work, and now he has been dipping into the economic sphere".
Putin said he was aware of different types of political ratings and noted that they were "drawn" by competent people.
The President then added that life was "more complex than any ratings" and switched to describing the new generation of "the oppositional and not really oppositional activists."
"Of course they are trying "to bite the chief one". That's a common rule in the world, a trivial trick. They are trying to jump out of their pants to do so," Putin said. "But as they say, there's risk of staying without pants. It's alright if there's something to look at, otherwise it would turn out awkward."
According to Putin some of the new politicians consider themselves to be the first.
"So, mind your words," he told journalists. "It's not clear who is Number One, maybe it's them."
No mayoral election ban
Vladimir Putin was asked to comment on this year's mayoral election in Moscow, particularly on the participation of a popular opposition activist and prominent anti-corruption blogger, Aleksey Navalny, who came in second in the race. Navalny was helped to become a candidate by the United Russia party, which assisted him in securing support of the capital's legislature, necessary for all the candidates to obtain according to a new law.
Vladimir Putin made it clear that he believed the opposition must be helped to make it into the election.
"In my opinion, it's useful for the candidates themselves – so that they could become more serious, consistent. And people could in this way see what the candidate is really offering, not just hear him criticize the authorities, but understand how they want to achieve their goals. Are these really serious proposals or not?"
Putin was asked if he considered Aleksey Navalny "a threat."
"If he was a threat, he would not have been allowed to take part in the election," Putin answered jokingly. "And that would have been done not by some administrative means, but in accordance with the law."
Putin also dispelled rumors that mayoral elections in Russia could be abolished.
"Mayors of course should only be elected," he said. "We are members of the European Charter, but it's not only this. The thing is that the municipal authorities are the level of government that's closest to the people, so mayors must be people who citizens know personally and can come to and discuss a particular situation in a town or a city."
Last year, elections for regional governors were reinstated after a break of eight years, when governors were appointed by the president.
The three principles
Putin was asked to name three principles he believes are essential for a leader to follow.
The first one is never to evade responsibility, he said. "One you start doing so – the game is over."
The second principle is to never make headstrong decisions alone without listening to advice, he added. "But if opinions are split, one must have courage to make the final decision."
Finally, according to Putin, a leader must always understand what the daily concerns of ordinary people are.
"You can't work otherwise," the president said.