Putin's Q&A, as it happened: All the best quotes and realtime reaction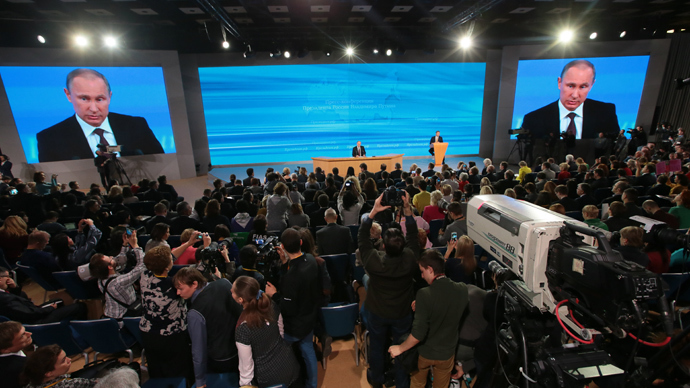 Stalin was no different than Cromwell, a riot police officer beating a girl seems unimaginable, and Pussy Riot degraded the dignity of women. Putin's marathon Q&A session was heavy on economics and politics, but not without its moments of controversy.
12:13 GMT: Putin wishes the attendees a Happy New Year and concludes the Q&A session.
12:10 GMT: Concerning de-offshorization, Putin says that money should be spent where the money is made. He says you cannot earn your money in Russia and store it in other jurisdictions. He says a road map has been rolled out to improve the business climate in Russia. There is also work to close the many tax loopholes that currently exist. Russia plans to share information with other states in order to battle tax evasion.
12:07 GMT: Putin says that state-owned media companies should be run by patriots who protect Russia's national interests. Independent media should also be allowed to exist so that there can be a plurality of opinions and people can compare different perspectives.
Biggest applause of 4 hr presser comes as #Putin rebukes Bloomberg reporter, saying state-run press (propaganda) should be run by "patriots"

— Kirit Radia (@KiritRadia) December 19, 2013
12:00 GMT:"We should copy the best practices of foreign countries, but not copy them indiscriminately."
11:58 GMT: Putin also says his statement that the collapse of the Soviet Union was the worst geopolitical catastrophe of the 20th century had been misconstrued to depict him as having hegemonic intentions, which is not the case.
11:57 GMT:"If anyone wants to return to Russia, it should be ethnic Russians from former Soviet republics."
"What exactly differentiates [Oliver] Cromwell from Stalin? Who can tell me? No one! From the point of view of the liberal spectrum of our political establishment, he's a dictator just as bloody; a man who was really treacherous. [Cromwell] played a very controversial role in British history. But his monument stands – no one is tearing it down."
11:56 GMT: Putin is asked what Soviet leader he would like to reconstruct as a monument in Moscow. He says that which monuments to Soviet leaders are reconstructed in Moscow is a decision which will be left to municipal authorities. Putin argues, however, that there is no difference between Oliver Cromwell and Joseph Stalin regarding their bloody mark on history.
On Stalin. "Cromwell plays the same role in British history." Right

— Roland Oliphant (@RolandOliphant) December 19, 2013
11:45 GMT: Putin is asked about how thousands of Russian passports were handed out to the citizens of Abkhazia and South Ossetia in the lead up to the 2008 war, and if Russia would take similar steps if a similar situation erupted in the Crimea.
Putin says there are no parallels between what happened in Abkhazia and South Ossetia and Crimea. Putin says the 2008 war was intended to protect Russian peacekeepers from being massacred, and no similar situation exists in Crimea. He says that the presence of Russia's Black Sea Fleet in Sevastopol is a stabilizing force in the region, and hopes it presence will continue.
11:36 GMT: Putin is asked about the possibility of a third criminal case being brought against former Yukos CEO Mikhail Khodorkovsky. Putin says that he doesn't want to comment because he has nothing to do with it. He says that he is merely an external observer, but does not see any feasibility of a third case going forward. Putin says people who have gone abroad have not done so out of fear for prosecutors, but rather to "stay with their families."
11:32 GMT: Authorities are attempting to even out the government budget to deal with the massive imbalances that exist between different regions. Putin says that regional governments have more instruments to impact the development of their own regions, but legislation might soon be passed that would compensate regions who use their own funds to invest in regional projects.
11:20 GMT: Iran is a priority partner in the region and Russian will develop cooperation with Iran on all tracks, the Russian president said. Putin says that not only Russia, but the US helped hammer out a nuclear deal with Iran that will see sanctions on the country loosened. Putin says that the security of all countries in the Middle East, including Israel, needs to be secured. He also said that the sanctions route was counterproductive towards finding a long-term solution regarding the Iranian nuclear issue. Putin says it is Russia's position that Iran has a right to nuclear energy like all states.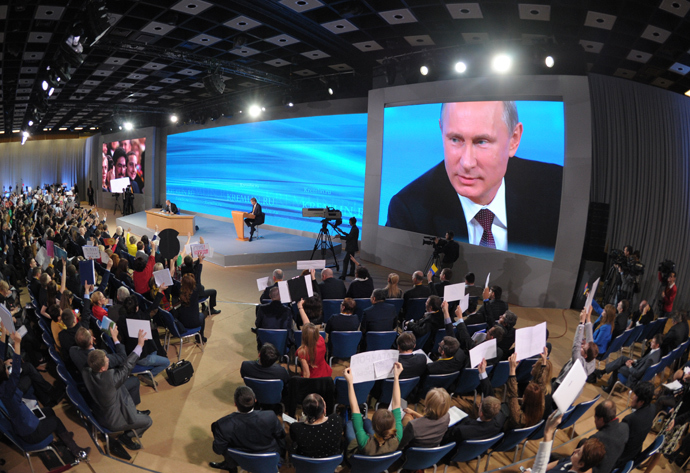 11:18 GMT: Asked by a journalist from the Chinese broadcaster CCTV about the trajectory of Russia-Chinese relations, Putin notes it is no coincidence that he spent his birthday with Xi Jinping, saying bilateral cooperation will continue to expand in a variety of spheres.
"I can't believe that OMON [Russia's special purpose police unit] would hit a girl. I simply can't imagine it. I know OMON, I've met with them more than once, even when they were on duty. These are people who regularly face gunfire and risk their lives. They've got their own families, children, wives, sisters and mothers."
11:15 GMT: Putin says he cannot imagine a situation where a riot police officer would attack a woman, but if a woman were, for example, to attempt to pluck his eye out, the officer would have to defend himself.
Putin said "I can't imagine Riot Police beating a girl", very weak applause in response.

— Yulia Bragina (@YuliaSkyNews) December 19, 2013
Putin stresses that fair sentences and trails need to be guaranteed in the country. He notes that it's not just a problem of Russia, but all countries suffer from a certain sloppiness regarding law enforcement authorities from time to time. He notes that the amnesty was put forward to turn the page and move on, inclusively, with civil society.
11:06 GMT: One journalist talks about how her intrepid colleague saw her home burned down as a result of her professional work. The woman asks for Putin to protect her colleague, who should have been provided a new home in her village.
Putin says he can't comment on the woman's story, but he will speak with her after the meeting to deal with her colleague. He said he were to respond to every letter sent to him, he would have time for nothing else, and still not finish that task. He notes that today's Q&A was an opportunity to speak with everyday people about issues such as the one's which have been brought up during today's session.
11:00 GMT: A journalist from the Russian Far East City of Khabarovsk tells Putin that people who want to stay in the region are being deprived of the opportunity to earn an honest living.
Putin reiterates previous calls that everything should be done to boost the standard of living in the Far East. He notes that some 91 billion rubles are slated to be invested in the region. Putin says that regarding the resource rich region, Russia should not merely export raw materials abroad, but rather create value added good like furniture.
Presidential Presser Facepalm: Spokesman Peskov as young journo tells Putin of platonic love pic.twitter.com/DPBo4NbvrNhttp://t.co/ntox9qv6kN

— RT (@RT_com) December 19, 2013
10:50 GMT: A journalist from the Kazan-based news portal Business Online asks Putin about the fatal air crash in her city that killed 50. She asks how this accident will affect Russia's aviation industry.
Putin says that naturally new measures should be adopted to protect the safety of passengers. Putin says the primary focus should be on regulations, for example, how many hours of sleep the pilots get and safety checks on Russian aircraft. Putin hopes that the country's Ministry of Transport will draw serious conclusions from the tragedy.
"I'm not really saddened that [Pussy Riot] ended up in jail, though there is nothing good in that. What saddens me is that they took things to such a level, here, from my point of view, that they degraded the dignity of women. They did this in order to stand out, to get PR, but they crossed a line."
10:45 GMT: Putin says he does not feel pity for Pussy Riot because they are in prison, though he does pity them for that, but because they started engaging in activities that were degrading to women. He notes, however, that they were not imprisoned for those acts. He continues that the amnesty was not intended for Pussy Riot's benefit or the Greenpeae activists, but rather it was intended as a component of Russia' modernization.
10:43 GMT: A journalist requests 20 million rubles for the city of Vladivostok in Russia's Far East to help deal with nuclear waste. She then says that all of the natural resources of Russia belong to the Russian people in accordance with the constitution, and if they were nationalized, the country could do away with the tycoons controlling those sections.
"If you do this, the whole country will thank you and ask you to rule for the rest of your life." The hall (a hall of JOURNALISTS), applauds

— Shaun Walker (@shaunwalker7) December 19, 2013
Putin answers that the Russia constitution will not be changed and it's necessary for the stability of society. Putin says that if the issue in Vladivostok could merely be solved with 20 million rubles, he will gladly find the money.
Concerning the best way of balancing the distribution of natural resources in the country, Putin counter's her claim that Gazprom is controlled by tycoons, saying it is a state corporation. Putin says it is not the government's job to seize assets from the private sphere, and that the Russian governments controlling stake can control the distribution of those resources. He also notes that allowing Russian state firms to be partially sold will increase investment and their market capitalization.
Putin says Russia does not need to nationalize state comments, but rather enforce the existing legal structures. Putin says that Russian economic problems can be solved within the capitalistic model.
"After meeting you my private life has improved -I've got married" young girl from a tabloid to #putin

— Alexander Kolyandr (@kolyandr) December 19, 2013
10:24 GMT: Putin notes how changes in the media landscape have made it difficult for print journalism to flourish. He also notes how its understandable that those working in print media would be unhappy with government cuts in subsidies to the industry, but such cuts reflect changes in consumer habits. Putin says he could reexamine those changes.
10:16 GMT: Putin says that it is only natural that entrepreneurs will be dissatisfied with something, they want what they want now and all people in general have a tendency towards criticism.
"If [Aleksey Navalny] posed a threat, he would not have been allowed to participate in the [Moscow mayoral] election."
10:14 GMT: Putin jokes that if Alexei Navalny were a threat, he would not have been allowed to take part in the mayoral elections. He then says that if Navalny had violated some electoral laws, he could have been barred from taking part in elections, but such questions are for experts to decide.
"After our meeting, my personal life improved, I got married ... not with you, but with my husband. I love you platonically, Vladimir Vladimirovich," a [platonically] love-struck journalist, bearing a stuffed Yeti, told the president.
10:10 GMT: A journalist brandishing a stuffed Yeti from the southwestern Siberian region of Kuzbass asks Putin about problems with the regions struggling coal industry. Putin says he wants to improve the traffic flows throughout all of Siberia, and will invest funds from the national welfare fund to do so. Putin recognizes that the lack of infrastructure limits economic growth in the region. Putin says the Transportation Industry and Russian Railways will be integral in upgrading infrastructure.
PHOTO: Journalist gives Putin Yeti toy as a present during his Q&A. LIVE FEED: http://t.co/bhf6I6hjbjpic.twitter.com/aZCQfPM1Ol

— RT (@RT_com) December 19, 2013
10:05 GMT: One journalist invites Putin to the 300th anniversary of the Siberian city of Omsk set for 3-years' time and asks if the city will get its metro system as promised.
Putin notes that western Siberia is far more developed than eastern Siberia due to its closeness to the European part of Russia and lower transportation costs. He once again says that the government has special plans to develop Russia's Far East.
10:00 GMT: Nationalist sentiment in Ukraine is part of the reason many younger people have negative attitudes towards Russia, Putin says. He notes that Russia has its own nationalist elements, but the majority of Russians are positively disposed towards Ukraine. Likewise, he says that among Ukraine's 45 million citizens, you will of course find elements that are anti-Russian, but their sentiments are likely caused by a lack of awareness.
#Putin losing temper a bit for first time today when asked again about #Ukraine. Says EU trade offer a bad deal, they'd lose Russian market

— Kirit Radia (@KiritRadia) December 19, 2013
He repeats previous statements that while Russia will not discriminate against Ukrainian goods, Russia will have to remove trade preferences with Ukraine so as not to undermine Russia's economy. He reiterates his previous statement that Ukraine would devolve into an agricultural appendage of Europe. He understands that Ukrainian youths want to adopt certain EU standards, but they would also likely want to see their industrial production maintain their current markets in Russia.
He also notes that many of the Ukrainian political leaders involved in the euromaidan protests in Kiev are opposition leaders who had the opportunity to sign an association agreement with the EU when they were in government, but didn't. He concludes that ultimately, this is less about the EU, and more about internal Ukrainian politics.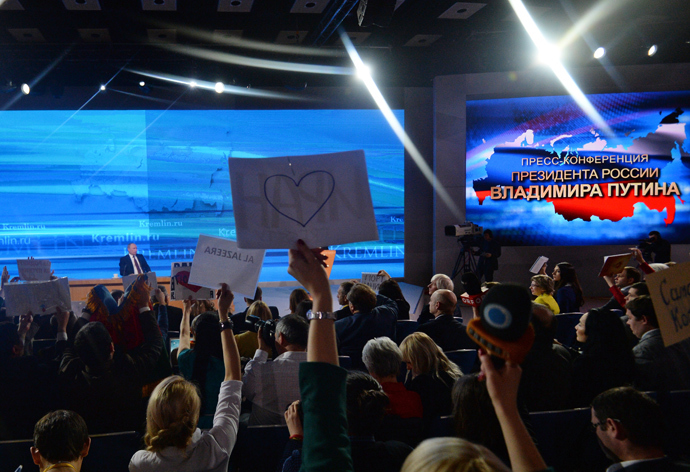 09:52 GMT: Putin says that if illegal protests were to take place on Red Square as they are currently taking place on Independence Square in Kiev, Putin would deal with it within the framework of the law so as to avoid chaos which could affect the economy and social sphere.
09:50 GMT: Russia is hosting the G8 summit next year, and will be tasked with setting the agenda for the body of global powers.
09:39 GMT: Joining the WTO is not about garnering short term benefits, but will rather protect specific Russian markets, for example, in the metal and petrochemical spheres. Putin says that Europe is still restricting Russian chemicals and fertilizers despite Russia's WTO ascension. He also says that energy resource prices are being artificially manipulated, which, for example, have affected Russia's export of fertilizer. Joining the world trade body will give Russia more rights and opportunities to influence such situations on the internaitonal market, and will help Russia build trust with other nations which the country trades with.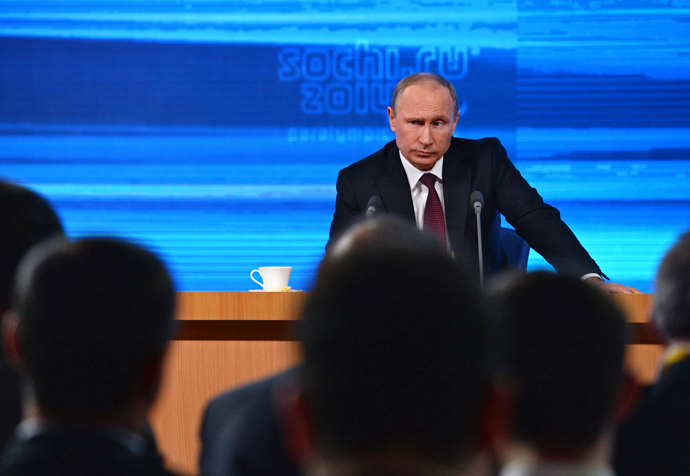 09:38 GMT: Putin is asked what political steps Russia will take to normalize relations with Georgia following the 2008 war, and if Russia's position has changed following Saakashvili's lose in the October 27 presidential race.
Putin says his feelings towards the Georgian nation have always been warm, noting deep spiritual and cultural ties. Putin says that there are problems, and it is not Russia who started the 2008 conflict, which everyone has recognized. Putin believes that a visa free regime between Russia and Georgia could be worked out, which would create conditions for a full-fledged normalization of bilateral relations.
09:33 GMT: Putin says he can't control everything and the government has to be set up in such a way that many processes happen automatically. Putin says that the executive and the parliament need to be on the same page, especially in regards to such issues as the recently passed amnesty.
09:30 GMT: Putin says Cossack patrols are part of the Russian identity and are not archaic. Putin said in Soviet times there were milita units who were patrolling the streets and it is normal. He says that at times the Cossacks work much more efficiently than the police because they represent the majority of the people who live in their regions. He notes, however, that abuses can happen and the Cossack patrols must work within the framework of the law.
#Putin says cossacks are often more effective than police. Wonder what he would say about all the cossacks on #euromaidan

— Ian Bateson (@ianbateson) December 19, 2013
09:25 GMT: Putin says the recently passed amnesty was not specifically passed for the benefit of Arctic 30.
09:23 GMT: In regards to the Arctic 30 - the 30-strong crew of a Greenpeace ship detained in Russia - Putin says he respects anyone who protects the environment, but does not support those who use environmental activism to promote themselves or make money. Putin believes that there could be attempts by others to stop Russia from developing its offshore energy capabilities under the guise of environmental activism.
#Putin talking about #greenpeace says he doesn't like it when people do things for PR. To massive hall full of journalists

— Ian Bateson (@ianbateson) December 19, 2013
09:20 GMT: Putin says that it is up to the courts to decide what kinds of violations were committed and who committed them. If people organized mass unrest which resulted in security forces being attacked, it would be dangerous for society to let this stand without punishment. Otherwise, people will be left to protect themselves, as there would be no one else to protect them. Putin says that in this light, the amnesty bill recently passed will not apply to those who committed violence against security forces or had been convicted of violent crimes.
Putin has a George W. Bush moment: Tells joke about dark-skinned Americans exiting Moscow-Kaliningrad train, but forgets the punch-line

— Alec Luhn (@ASLuhn) December 19, 2013
09:17 GMT: Putin is asked why the recent amnesty bill will only apply to some of the 27 people arrested during the May 6 , 2012 protest on Bolotnaya Square. which turned violent.
"I envy him. He can do it, and get away with it," Putin said, regarding how he felt about President Barack Obama following the revelations of NSA whistleblower Edward Snowden.
09:15 GMT: Putin says that following the Snowden revelations, he "envies" President Obama because "he can get away with it." Putin says there is nothing to get upset about, as spying is one of the world's oldest professions. Putin says its would be difficult to read all of the documents presented by the Security Services regarding intelligence gathered. Putin says he knows, as he himself wrote these documents. Putin says that no matter how "our American friends are criticized,"all this work is being done to counter terrorism."
Putin says that you don't just spy on the terror suspect, but you have to follow his whole network, and this cannot be done without watching him and his contacts 24/7. Putin says that there should be moral and ethical agreements regarding this surveillance, but he reiterates that in the end, this is about countering terrorism.
09:07 GMT: Putin says that mayors should be elected, but those who lead municipal governments should be known to the people.
Putin seems in a very good mood today. Is this #Ukraine related? pic.twitter.com/pRYcsbNjzj

— Maxim Eristavi (@MaximEristavi) December 19, 2013
09:06 GMT: Putin says that as the host of the 2014 Winter Olympics in Sochi, equal conditions should be created for all athletes no matter what country they represent. This is Russia's number one priority for the Games. He says that Russia expects victory for its athletes, but will not give any forecast on the number of medals that will be won. Rather, he says that they will have an opportunity to show their courage and skills, as one can never predict how even the best athletes will perform.
09:03 GMT: Putin is asked if he has met NSA Whistle blower Snowden, to which he replies no. Putin says "he is quite an interesting personalty" and thanks to Mr. Snowden, "the mentality in the world has changed for millions of people."
"I haven't met [Snowden]. He's got his affairs, I've got mine."
Putin says he's a curious person, but the Russian president has his own interests and Snowden has his. Putin reiterates one of Snowden's conditions for temporary asylum, namely that Snowden not engage in activities that cause harm to the United States. Putin says Snowden has lived up to this condition during his stay in Russia.
Putin is in his classic. "I am going to patiently explain everything with crayons for you" mode.

— The Moscow News (@themoscownews) December 19, 2013
09:00 GMT: CNN notes Putin's stress on moral values, and asks him why he wants to criticize western values.
Putin responds that he does not want to criticize western values, but protect Russia from "pseudo-values" that are aggressively being imposed on Russia by some social groups.
He notes that in Soviet times, morality was like "a simple copy of the bible." He says that today the code of the communist workers does not exist, and the young generation has not heard about them. He says that in this moral vacuum, Russia needs to return to traditional norms in order to move forward. He notes that it's a conservative approach, but this conservative approach helps us "not to degrade, not to lapse."
He notes that Russia is a country that is a rich culture which needs to build on its traditions to move forward.
Trying to get #Putin's attention at the press conference. pic.twitter.com/KESuATxtzd

— Kirit Radia (@KiritRadia) December 19, 2013
08:55 GMT: Putin says the global economy has different ways of being kick started. He mentions the United States method of quantitative easing - injecting cheap money into the economy – the get the economy going. He says cutting down social spending and improving macroeconomic indicators is another method. He notes that at the recent G20 summit in Saint Petersburg, they found a path which makes everyone happy.
Putin thinks it is better to take out excessive money from the economy and put it into the country's reserves. He stresses that Russia should be cautious in cutting down social expenditures, and can even boost retirement payments with money taken from oil revenues. Europe, on the other hand, has had to drastically cut down on social spending, a problem that is not occurring in Russia, as Russia has consolidated its budget, thus forming a "cushion" for Russia to fall back on in difficult times.
Putin says that it is not just their fraternal relationship, but the interwoven nature of their economies which keeps Russian and Ukrainian ties close.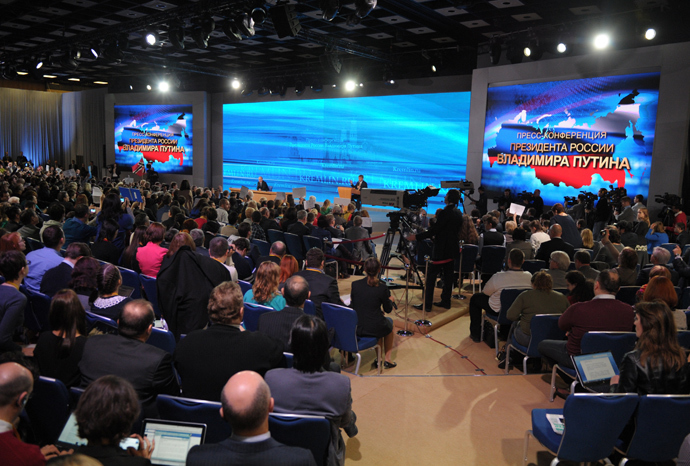 08:48 GMT: Komsomolskaya Pravda asks Putin who is the "number 2" politician in Russia, as Putin is obviously number one.
Putin says there are lots of veteran politicians in Russia. He starts off by mentioning Gennady Zyuganov, the leader of the Communist Party of the Russian Federation who has millions of supporters throughout the country. He also mentions leader of the Liberal Democratic Party of Russia Vladimir Zhirinovsky, Just Cause party leader Sergey Mironov and Russian Prime Minister Dmitry Medvedev.
He says that people attack the leader in order to boost their own popularity, but might "shoot themselves in the foot" in the process. He concludes by saying he can't answer who will be his successor.
#putin looks good and fit -- we are doomed to stay here for very long time

— Alexander Kolyandr (@kolyandr) December 19, 2013
08:42 GMT: Putin says that developing Russia's energy infrastructure in the country's Far East is on the agenda. He says that there are plans to build hydroelectric plants, but curbing consumption will also be necessary.
08:40 GMT: Channel One asks Putin why Russia is being accused of "flexing its muscles" for putting Iskander missiles in Kaliningrad when it's Russian territory and Europe has some 200 ballistic missiles on its territory.
Putin notes that missile defense remains a threat to Russian national security and Russia has the right to place Iskander missiles in Kalingrad. he notes, however, that this step has not yet been taken. Putin says that putting Iskander missiles in Kaliningrad is a logical response to American plans to build a missile defense system in Europe, but is not the only option at Russia's disposal.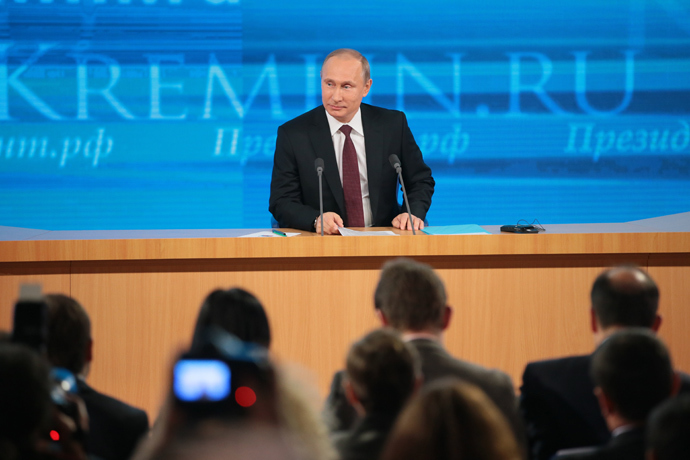 08:38 GMT: Putin says the Russian government has by and large been quite efficient this year. Despite being "hit by the wave of crisis," the government has worked efficiently. He says that the government must have the most professional staff, and therefore the government needs to provide them with attractive salaries.
He says the drive for anti-corruption measures is going strong. Putin opts not to enumerate all of the measures taken, though he mentions efforts to reign in assets officials are keeping abroad. He also says that the President and Prime Minister are did not get any sort of pay raise because they are already "paid enough."
"It's been great working with you today: you all keep answering your own questions."
08:31 GMT: Putin says that eliminating unreliable players in the financial service is a means of safeguarding the economy.
08:30 GMT: Interfax press service asks why there has been a "purge" of Russian banks whose licenses were recalled.
It's like a stadium in here, journalists are holding signs, pick me pick me. One sign says in giant letters, "Very important question"

— Alec Luhn (@ASLuhn) December 19, 2013
08:29 GMT: Russia can either extend the natural gas discount, or reach some type of "long-term arrangement."
08:28 GMT: Ukraine does not need $15 billion, they need hundreds of billions to make systemic reforms. Russia's decision to buy $15 billion in Ukrainian securities will merely help the government keep running and fund social welfare payments, but Ukraine will need much larger sums to really progress.
08:25 GMT: Putin reiterates that Europe will not buy the industrial products (citing helicopters as an example) that are currently being purchased by Russia. He says that if Ukraine abandons Russia entirely for the EU, it will become entirely an "agricultural appendage."
08:23 GMT: Putin also says that the Russian energy Giant Gazprom has twice agreed to sign documents allowing for Ukraine to postpone payments for gas in returning to his previous point that Russia is not trying to use gas as a means of pressuring Ukraine.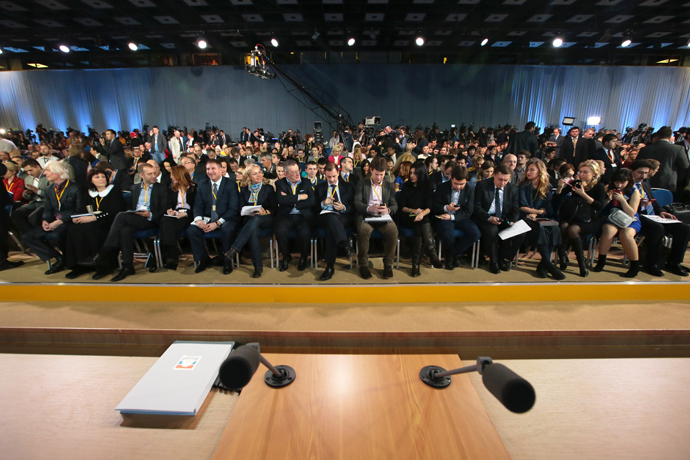 08:22 GMT: Putin says the bulk of Ukrainian exports to European are agricultural products, while Russia primarily purchases industrial products. Putin says Russia has nothing against Ukraine looking towards Europe, but Russia has to protect its own interests. If Ukraine opens it borders to Europe, the percentage of Ukrainian agricultural products to European markets will not grow as a result of quality controls and other restrictions in the EU.
"No one is suppressing anyone. If you want to be independent, you have to pay your own way and conduct yourself as an independent state," Putin replied when asked if Russia is using gas as a political tool to suppress Ukraine.
08:18 GMT: Putin says that Ukraine is a fraternal country in a tough economic and political situation which was caused by a number of reasons. He says if Ukraine is really a fraternal country, it is Russia's responsibility to help. He also said it was the government of former Prime Minister Yulia Tymoshenko who signed the gas contract with Russia, so "no one is trying to suppress Ukraine."
08:15 GMT: Putin is asked if he expects any payback for the decision to help Ukraine financially. Another journalist also says Putin has been "suppressing" Ukraine with natural gas prices, and then decided to cut the price. He is asked how much more Russia is willing to pay Ukraine to keep the country from "looking away from Europe."
08:12 GMT: Putin directs his Press Secretary Dmitry Peskov to kick off the Q&A session.
08:12 GMT: Housing, agricultural output, disposable income and real wages adjusted for inflation are all up year-on-year, he says.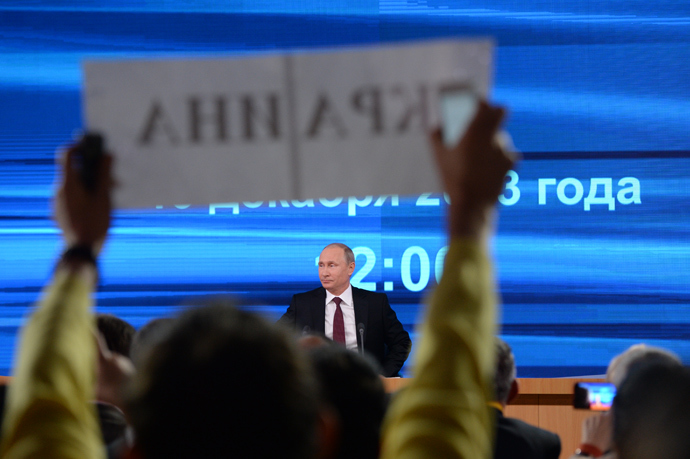 R
08:10 GMT: Putin says it's been a tough year and we've worked hard. He starts off the media conference by mentioning that GDP growth is up 1.4 percent but is likely to be up by 1.5 percent by the end of the year.
08:09 GMT: President Putin has taken his seat and the press conference starts.
08:04 GMT: During last year's Q&A, Putin answered dozens of questions ranging from serious to light-hearted. The Russian President explained controversial laws, rejected an assessment of his building an authoritarian regime for personal power, as well as predicting that the world would not end on December 21, 2012.
08:02 GMT: The conference is taking place in World Trade Center (WTC) Moscow. According to a document available on Kremlin administration's website, 1327 journalists have been accredited to cover the Putin presser.
Russian and international media are on the list, including Reuters, AP, CNN, The New York Times, BBC, The Guardian, AFP, Deutsche Welle, Al Jazeera, Al Arabiya, Xinhua, and Russia Today.
08:01 GMT: This is Putin's ninth big media conference over his two presidential terms. During the last Q&A session Putin answered 81 questions in 4 hours and 33 minutes. The record-long 2008 session saw the President answering 106 questions from 80 journalists.
08:00 GMT: RT is starting Live Updates on President Vladimir Putin's annual press conference.