'We need great Russia, not great turmoil' – Putin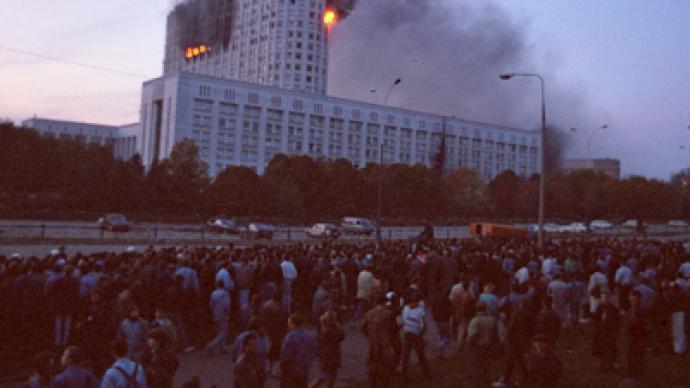 Prime Minister Vladimir Putin has agreed with criticism about the Russian political system and promised that there will be changes. However, he stressed that any changes should be "evolutionary".
On Thursday, Putin, who intends to run for the presidency in 2012, was speaking at the Russia Calling! investment forum organized by VTB Capital, where he outlined key directions that the state will focus on in the near future. The PM vowed that there will be political changes in Russia, but insisted that they should be applied carefully in order to avoid previous mistakes that the country faced in the '90s."There is no doubt that changes are needed and they will be happening, but it will be an evolutionary path. We don't need great turmoil, we need great Russia," he stated, addressing the get-together in Moscow. Putin said that "we will act very carefully, strengthening the fundamental foundations of our political system and developing it."He noted that it is obvious that in order to make Russia attractive to foreign investors, it is necessary to minimize both economic and administrative risks."The predictability of the political course and political stability are certainly no less important than macro-economic stability," Putin said.The PM underlined that the state must not substitute for business in economy: its mission is to offer a shoulder to entrepreneurs when it is necessary and "to remove barriers" that impede them."I believe that both the incumbent President Dmitry Anatolyevich Medvedev and I have sent a clear signal to the country: we are not going to ruin, hack up or break anything," Putin outlined. He noted that there quite a few "political bustlers" who urge immediate changes: "Faster. Higher. Stronger." But Russia already has experience with this. The PM quoted lines from The Internationale – known to everyone who was born in the Soviet Union – which reads, "The world is about to change its foundation. We are nothing, let us be all.""We all know these lyrics from our childhood. But what happened then? It happened that in the '90s everything collapsed," he observed, adding that it is time to stop using that kind of destructive approach any longer. Instead, the leadership should think well about everything, have a careful look at the ultimate aim and confidently move towards it. "It is not an easy task, of course. But we will manage," Putin said.
'We are not going to join NATO or EU'
Putin assured the audience that it was not in Russia's plans to enter NATO or the European Union. The Russian Prime Minister said that the European states must settle their own debt crisis before making offers to Russia. "Are you offering us to join the EU? First sort out your debts," Putin said, answering a question from a German participant of the forum.The prime minister also said that Russia was not going to seek NATO membership. "We are not going to join NATO or the EU. We can secure our own safety," Putin said.However, Putin noted that Russia will closely co-operate with the European Union in building the free-trade zone.
'People always look for better places'
When one of the forum participants told Putin that according to latest public opinion polls about 22 per cent of Russian residents wanted to emigrate, the prime minister said that the poll results should be perceived as part of the whole picture. "We have a well-known proverb – fishes look for deeper places and humans for the better ones," Putin said. "We should first look up how many people actually leave Russia and how many leave other countries," he said. Putin added that though he listened to sociologists' reports attentively, he always "divided the figures by 100".
'Kudrin still a member of our team'
Putin also told the forum that he planned to continue working with the recently-sacked finance minister Aleksey Kudrin. "We have talked with Aleksey Leonidovich [Kudrin] about that. I want to say, and this is my opinion as well as President Medvedev's, that Aleksey Leonidovich remains a member of our team and we will work together with him," Putin said. Putin called Kudrin one of the best specialists in his sphere, not only in Russia but in the whole world, and expressed hope that Kudrin would agree to co-operate with the government. The prime minister added that Kudrin was his good mate with whom he has kept close and warm relations since the 1990s.Putin continued to say that Medvedev's decision to dismiss Kudrin from the ministerial post was made after Kudrin himself told the press that his position did not coincide with the president's."What else can I say here? You want me to comment on this? I think that even comments from my side about this would be not correct," Putin told the forum.
WTO tries to pass buck on Georgia
PM Putin told the forum that Russia is ready to join the World Trade Organization (WTO), but will only do so on acceptable terms. He also called on the country's economic partners not to seek refuge in Georgia's stance regarding negotiations on Russia's accession to the organization. "I have a legitimate question. Do our main partners in Europe and the US want Russia to be a WTO member or do they not? There is no need to hide behind the Georgian issue," Putin pointed out. He added that if they want Russia to join it could be done very quickly since the sides have already reached compromise on main questions. However, now Russia is being told to "go and come to an agreement with Georgia." Tbilisi, for its part, has returned to the demands they voiced at the very beginning of the talks on Russia's accession. At some point these demands had been withdrawn, but now the former Soviet republic has presented them again, in other words, "they toughened their position."Georgia – a member of the trade bloc – has the power to block the admission of any new member.