Elections boss says Putin's presidency not done deal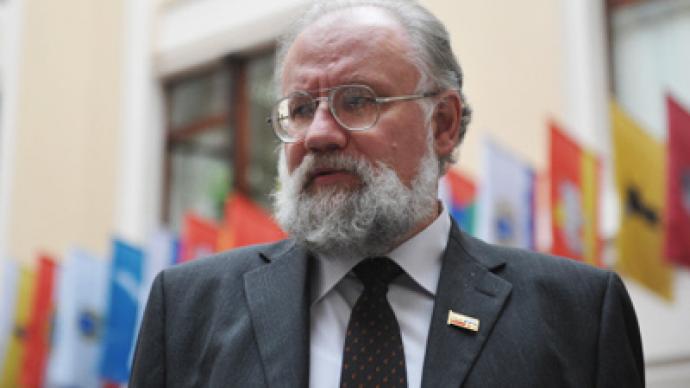 Vladimir Churov, the head of the Central Electoral Commission, has told the press that the question of Vladimir Putin's presidency will be finally decided only after the 2012 elections.
Churov was holding a press conference dedicated to future parliamentary and presidential elections in Moscow on Monday. When a reporter asked him if Dmitry Medvedev's suggestion to the United Russia party to support Vladimir Putin as a candidate at the presidential elections meant the outcome of the elections was already pre-determined, Churov said that it was not so. "This was not a question, rather a statement and it was a categorical one. I must say at once that I don't agree with it," Churov said.The Russian elections chief said that for him the election result will be known only by 9am on the next day after Election Day, when the Electoral Commission receives preliminary reports from over 99 per cent of ballot stations.Churov also promised the press that the elections would be fair. "The elections will be organized strictly in accordance with the law and better than in most countries of Western Europe," Churov said. He also added that Russian elections meet the international standards much better than the elections in some other states. The 60-year old official also called upon the elections participants to pay more attention to morals in their campaigns, but said he really did not expect them to do so. Also on Monday, recently-appointed head of the upper house of the Russian Parliament, Federation Council Speaker Valentina Matviyenko said that it was not clear if Putin would run for presidency again in 2018."This is not at all a pre-determined question, I assure you, even astrologers cannot make forecasts for six years ahead and Vladimir Putin himself does not set a task for himself to determine this," Matviyenko said. The official noted that the decision would depend on many factors, such as the socio-economic situation, the realization of the announced plans and of the population support. She criticized those who were suggesting that Putin's election in 2012 would mean him remaining in the presidential post for two more terms. "They are dictating the ideas of the second term to the society and I think that Putin himself has not yet decided yet if he will run for one term or for two."The upper house speaker said she welcomed Saturday's announcements by Putin and Medvedev."Any political changes would not help to solve the existing problems and Russia needs stability and stable development for another 10 or 20 years," she said.
You can share this story on social media: