Move over Nobel, Putin wins Chinese peace prize
Published time: 15 Nov, 2011 14:02
Edited time: 15 Nov, 2011 18:02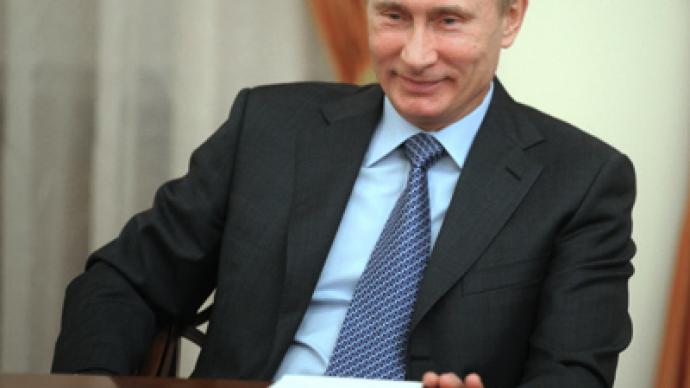 China's version of the Nobel Peace Prize has been awarded to Russia's prime minister, an organizer said Tuesday, pointing to Putin's record of "keeping world peace."
­Putin outscored other candidates, including German Chancellor Angela Merkel and Yuan Longping, a Chinese agricultural scientist, to win this year's "Confucius Peace Prize," Qiao Damo told AFP.
Qiao, a poet, pointed to the academic credentials of the organization.
"There are 16 people in the evaluation committee, including me and three professors, eight PhD students and four of our center's researchers," he said.
Putin's stance on the Libyan uprising was cited as one of the reasons for the committee's decision.
"This April or May, Putin was against NATO's idea to bomb Libya and he appeared to the world in a peaceful manner," Qiao explained. "This year's peace prize was given to him because his act this year was outstanding in keeping world peace."
The committee says the Russian embassy has been informed of Putin's win, but has not yet given a response. The award ceremony is scheduled to take place in Beijing on December 9 – one day before the Nobel Peace Prize event in Oslo.
The timing of the Chinese award ceremony appears no coincidence.
"I feel the Noble Peace Prize has drifted too far away from peace, and their standard has gone too far away from the essence of peace," Qiao says.
In October 2009, the Norwegian Nobel Committee attracted international incredulity, if not outright disdain, when it awarded US President Barack Obama its prestigious Peace Prize after just months in the job. Three years later, the United States military remains in the Persian Gulf, 90,000 American troops are still fighting in Afghanistan, while Guantanamo Bay, the Cuba-based detention center that Obama promised to close upon assuming office, is still open for business.
"Western values are not perfect and need an alternative to balance them out," the committee's spokesperson said.
The first Confucius prize was awarded last year to former Taiwanese Vice President Lien Chan. Lien was unaware of the award and did not claim it.