Putin says United Russia needs Popular Front to renew itself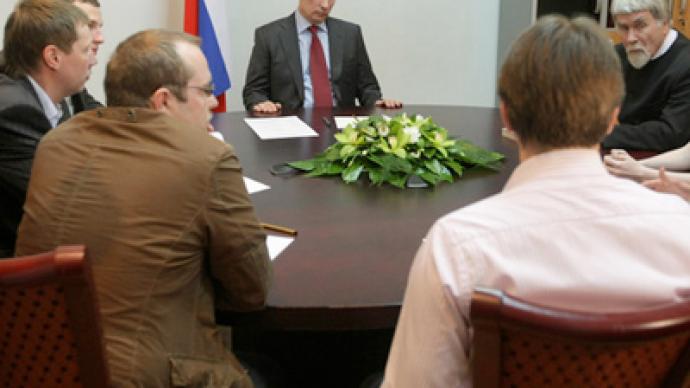 The Russian prime minister has explained his idea to create the Popular Front as being a way to implement the changes the ruling party needs to undergo.
The All-Russia Popular Front is being established so that United Russia could "revive itself thanks to new ideas and new people," Putin said at a meeting with representatives of public organizations in Pskov, a city in Russia's northwest near the Baltic states, on Monday. He described the new structure as "informal and non-bureaucratic union."Putin said the idea to create the Popular Front came to him at the start of the preparations for the parliamentary elections. But he stressed the organizations that join it should not limit themselves to elections only. On May 6, the premier suggested that the front should unite the public organizations that share United Russia's views. The elections to the State Duma, the lower house of the Russian parliament are due in December.  According to Putin, the Popular Front will allow numerous organizations to realize their ideas through political mechanisms that United Russia gives them. Public unions and organizations will also be able to nominate their people to regional and municipal legislative and executive bodies, he added."I'd like this informal structure – the All-Russia Popular Front – to help people to put forward their proposals on the development of their cities, villages, regions and even the whole country," he said.Putin also met with locals at his public reception office in Pskov. They asked the premier to help solve their problems, including the work of a nursery school for servicemen's children, the repairs work on an apartment house and the allocation of housing for WWII veterans.   The prime minister's visit to the city includes holding a meeting in the Pskov Kremlin of the presidential council on the development of local self-government. In the 14th century, the city dwellers solved their problems by calling a Veche – a public meeting that played the role of municipal authorities at the time. The meeting of the council, attended by the government ministers and regional officials, focused on the socioeconomic development of administrative centers of Russian regions, including financing of local self-government, public transportation and pre-school and school education. Among other most important topics were the modernization of the housing and public utilities sector, the resettlement of tenants of dilapidated houses and development of residential areas.
You can share this story on social media: