Putin talks tigers with Naomi Campbell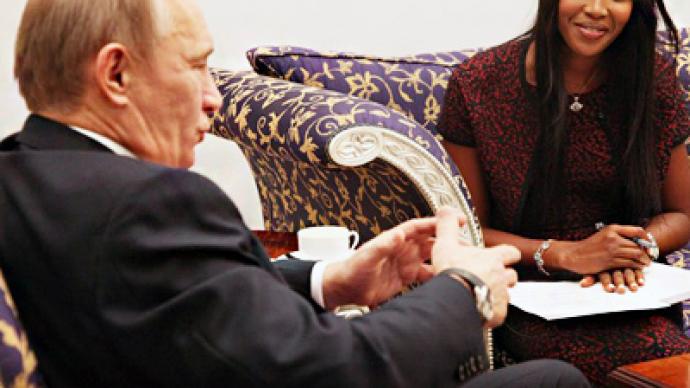 Premier Putin has spoken about his keep-fit secrets, tigers and his thoughts on a racy calendar given to him by female Moscow students for his birthday, in an interview with supermodel Naomi Campbell that was published in GQ magazine.
The two met and spoke back in November, in St Petersburg, at the International Forum on Tiger Conservation hosted by Putin. But the British version of the men's magazine has only just revealed the details of the conversation between the Russian premier and the supermodel. In the interview, among other things, Putin explained his decision to join the Global Tiger Initiative. He said it was pretty simple as once he saw a TV program about Russian and US activists working in the Far East to save the population of the big cat. "I was impressed by what I saw… I decided support needed to be given to these activists, so I pulled together a program, sponsored by extra funds. The total allocation was US$5 million and then we started expanding the program, which now includes black bears, white bears and other species," he said, as cited on the magazine's website. Putin also recalled his own experience of seeing an Amur tiger in the wild during his trip to Ussuri national park in Russia's Far East. He said it felt good to him, "but not all of my Russian colleagues felt the same way". He said that one of the TV reporters who was at the site to cover the story was sitting next to a tigress trapped by scientists who were taking necessary measurements and fitting a GPS-collar on her neck. "But the tiger was smart, and as soon as the cameras started rolling, it stuck its paw through the trap. You could say the reporters were afraid."Putin said that later they managed to sedate the tiger, though in his modesty, he did not mention that it was thanks to his quick reaction that the journalist was saved:he tranquilized the tigress with a dart gun."Shortly after that, we got pictures from video cameras that were hidden in the woods, which showed the same female tiger with two cubs. So I had the very best impressions of tigers in the wild."Campbell also asked the premier for his thoughts on the work to save the tiger population. "Do you think this will bring an increase in the number of tigers, will there be less poaching, and instead of having just 3,200 tigers in the world, will we soon have more?" she wondered. Putin said that he was sure of success. "I see that my colleagues from other countries are determined to resolve this issue," he noted and added that major steps are already being taken.Campbell, along with Hollywood star Leonardo DiCaprio and Bollywood actress Preity Zinta, were the celebrity faces at the summit on saving the world's dwindling population of the big cat.
Premier's know-how on keeping fit
Serious matters aside, when talking to the premier, the supermodel also showed keen interest in Putin's good physical shape. Or, rather, in how he manages to keep fit. Putin said he goes to the gym, swims daily and "from time to time I meet with friends and do extra-curricular stuff".The photos of the premier's 2009 holiday in the southern Siberian region of Tuva – where he was fishing, swimming, rowing and riding bare-chested – were snapped by media from all around the world. The pictures buffed up his action-man image: a man who is also in very good shape compared to the majority of Russians his age. Naomi Campbell recalled Putin demonstrated a butterfly swimming stroke during that Siberian vacation. "I was swimming butterfly because the water was cold. It was one of the famous Siberian rivers and the water was something like 16˚C. My idea was to get out of the water as soon as possible," he said. Putin did not comment on whether extreme sports are a thrill for him or just a way to show off, but recalled that his passion for sports had only once ended with an injury. "Back in my student days, I broke a finger when I was mucking about during exercise, but I've been lucky recently," he said.
Sexy students' calendar
The story over the unusual gift for Putin's 58th birthday – an erotic calendar made by 12 female journalism students at Moscow State University – also cropped up in the interview. Each month featured one of the girls posing in sexy underwear with speech bubbles printed next to the image saying something flattering. For instance, the February lady was wondering "How about a third time?" which apparently referred to rumors Putin may run for the presidency again in 2012. "You obviously make a great impression on women," Naomi observed. She was curious to know how the Premier felt about the students who posed for the provocative calendar. Putin said that he liked girls a lot, as they are beautiful, but noted that it was not the most important thing. He praised the student's for being courageous."As student journalists, they couldn't fail to understand what might have been said to them after doing this. Nonetheless, they were not deterred and did the calendar anyway. So, frankly, that's what I liked the most," Putin said. He also commented on a rival calendar that was made by another groups of students as a response to the flattering one. Dressed in black, with their mouths tapped shut girls were posing next to questions on pages asking, for instance "Who killed [journalist] Anna Politkovskaya?" or "When will Khodorkovsky will be released?". The premier observed that "in almost any country, probably in Russia in particular, it is fashionable to criticize people in power".He added that "if you come out in support of someone like me, you are going to be accused of trying to ingratiate yourself".
"I'm not the tough guy"
The Russian public is used to seeing the prime minister appearing in the most unpredictable roles and places.Last summer, as Russia was fighting devastating wildfires, he co-piloted a firefighting plane. A year before that, he examined the depths of lake Baikal in a submersible with scientists.He also drove an F1 car, fired darts from a crossbow at a gray whale off Russia's Far Eastern coast. The list goes on and on. In July last year he was spotted with a group of bikers, the Night Wolves, riding a Harley Davidson. The premier turned up at an annual motorbike festival taking place in the Ukrainian city of Sevastopol. "How were you received by the bikers?" Naomi wondered. "Well, these are really cool guys, really tough guys," Putin said. He recalled that one of the bikers – "a really courageous person" – traveled a few thousand kilometers."He's a disabled guy with only one leg – he lost it somewhere in Yugoslavia during the war. I'm not the tough guy, those guys are," he added.
You can share this story on social media: