Putin orders two ministries to work jointly on controversial highway plan
Published time: 10 Dec, 2010 09:15
Edited time: 10 Dec, 2010 17:29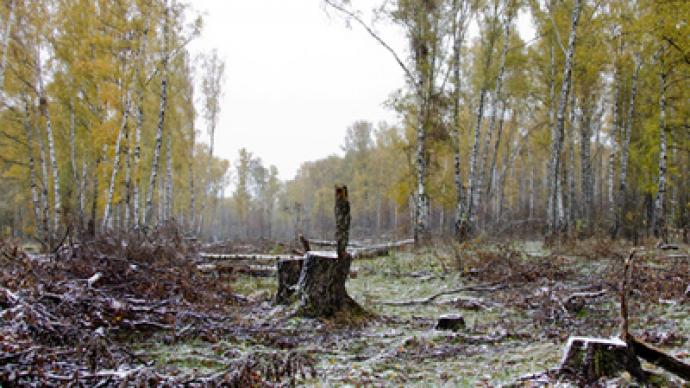 Prime Minister Vladimir Putin has ordered the ministries of transport and natural resources to work together on the Moscow-St Petersburg highway project, which led to public protests during the summer over environmental concerns.
The planned highway has caused uproar because it would result in the destruction of a forest park in the town of Khimki. The two ministries must present a joint evaluation report, Putin said after a session of the Russian-French commission on economic cooperation on Thursday. The decision on the highway will be taken in accordance with that evaluation, he noted.
Building was supposed to start in October, but President Dmitry Medvedev halted preparations in August following numerous protests by ecology activists. However, about 60 hectares of the forest had already been logged by that time.
Although French companies are taking part in the project, it was not on the agenda of the talks between Putin and the French Prime Minister Francois Fillon. He said, however, that French companies "are certainly expecting construction to begin." At the same time, Fillon stressed the issue was within the competence of the Russian government.
Vedomosti daily reported on Thursday that the Russian president had allegedly taken the decision to resume construction of the highway through the forest. He reportedly discussed the issue with the French prime minister on Thursday. However, Gazeta.ru quoted the president's press secretary Natalia Timakova as saying that "the details were not discussed." As the issue is concerning commercial contracts, they should be agreed at government level, she noted.
According to the prime minister's press secretary Dmitry Peskov, the two ministries should present the results of the evaluation "in the foreseeable future," Gazeta.ru said.
Evgenia Chirikova, the leader of the Movement for the Protection of Khimki Forest, was surprised at the news of the ministries working together. She also described the Vedomosti report as "a provocation".
Meanwhile, Russia's human rights ombudsman Vladimir Lukin called upon the defenders of the Khimki Forest "to be tolerant" regarding any decisions the authorities might make. "The active minority" could explain their argument during public hearings, he said at a news conference.
The authorities "must not violate the public's right to express their opinions," Itar-Tass quoted him as saying. But a minority should not violate the authorities' "absolute prerogative as the decision-making source," he stressed.
The authorities have the right to put into practice whatever decision they make, the ombudsman said. "Otherwise, we'll have no order, no country, no state," he added. Russia must have forests, "but it also must have roads," Lukin noted. "So we should have patience and agree to a compromise."