Pundit frenzy as Putin prepares for European road trip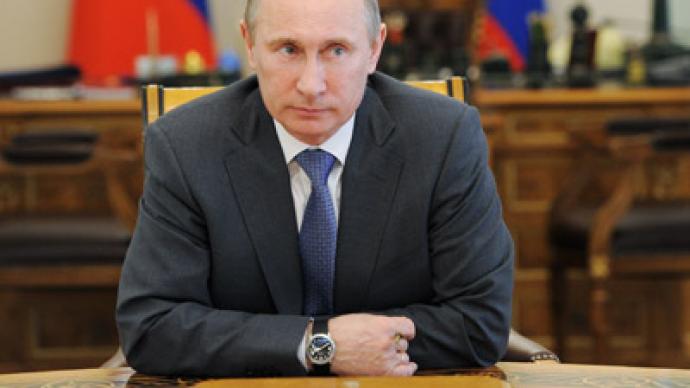 Fresh from approving the members of his government and presidential offices, President Vladimir Putin is ready to venture out on his first foreign trip, a tour that will see him visit three European capitals and trigger lots of speculation.
Starting on May 31, Putin will head to Belarus, followed by a working visit to Germany on June 1 at the invitation of Chancellor Angela Merkel, the Kremlin press service reported on Friday.
Wrapping up his whirlwind tour, the Russian leader will head to France at the invitation of new French President Francois Hollande.

Meanwhile, political pundits are trying to decipher the significance of the visits, and what they may mean for the future trajectory of Russia's foreign policy. 

Putin's visit to Belarus, his first foreign trip abroad as president, sends an unmistakable message of solidarity with Minsk, which has been on the receiving end of Western criticism of late.

In March, the EU strongly condemned the execution of two Belarusian men following their conviction for organizing last April's deadly attack on the Minsk metro, which left 15 dead and over 200 injured. The bombing came at a time of deep economic problems and protests against Belarus President Alexander Lukashenko, who has been in power since 1994.

This week, Lukashenko made it clear he would not be rattled by western pressure, saying he expects to see more "concrete steps from the West" in an effort to restore good relations between Minsk and Brussels.

"The ball is on their side," the Belarus leader said. "Therefore I am not going to wait again for old musical instruments to play old sheet music."

Putin will then head to Germany, which seems an obvious choice given Russia's better-than-average relationship with Berlin. During Putin's first term as president, he enjoyed a good relationship with former Chancellor Gerhard Schroeder, who is now the Chairman of the Board of Nord Stream AG, a project initially launched by Putin and Schroeder.

Meanwhile, the European Union, largely through Germany's financial support, is struggling to keep embattled Greece from exiting the eurozone. The situation opens the door to any number of possible subjects for Merkel and Putin to discuss: from building stronger economic and political ties, to considering an emergency plan should things take a real turn for the worse in the EU. After all, Russia's financial situation is squeaky clean, while oil revenues and an improved business climate are a natural magnet for investment.

Finally, Putin's visit to France, which just threw its support behind Socialist leader Francois Hollande.

Vladimir Putin's last visit to France, which occurred in 2010 while he was still Prime Minister, saw Russia seal a deal on the purchase of French-made Minstral warships.

However, with a Socialist leader now at the helm, the French street expects concrete steps to relieve the domestic situation. Once again, with Russia willing to open its checkbook as it undergoes a large internal modernization of its old Soviet infrastructure, France cannot afford to alienate its big ally to the East.

It is also worth mentioning that during NATO's Chicago Summit, Hollande announced his "pragmatic" decision to pull out the 3,400 French troops in Afghanistan by the end of 2012. This decision goes against NATO's planned, unified pullout by the end of 2014. At the same time, Hollande also placed strict conditions on France's participation in the US missile defense shield, which includes cost and contracts for French contractors.

In conclusion, Putin's upcoming European tour, while serving as an opportunity to start the ball rolling on the foreign front, will also be a chance to stimulate the global markets and get the global economy onto the right track.