Putin promotes social unity, political modernization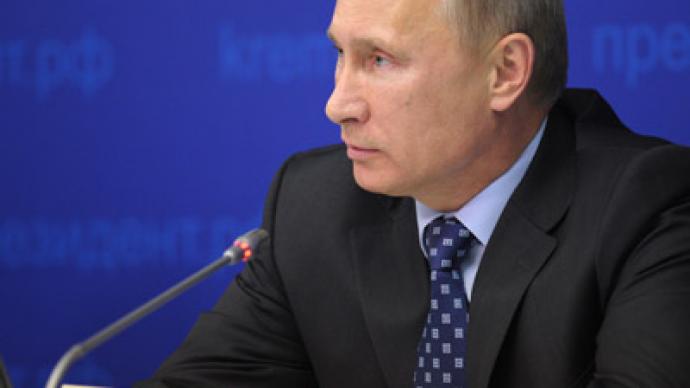 President Vladimir Putin has voiced full support for recently approved bills intended to modernize Russia's political system and called upon MPs to join him in uniting society in pursuit of common goals.
President Putin said that deputies must put national priorities before corporate or group interests during a meeting with representatives from various parliamentary factions."We all, every political force in the country, must together watch very carefully and analyze the situation in the country and always think about the people's prosperity and not about corporate or group interests," Putin said. "If you think about party interests, they must be second, third or forth in line. This is a serious signal. In general we understood what was going on in some of our country's regions, but understanding is not enough," the president added in reference to a deadly attack on top Muslim clerics that took place on the same day in the Russian republic of Tatarstan. The president went on to call upon the MPs to oppose the "destructive forces that are attempting to sway the situation".Putin said that the recently approved bills on political system modernization, such as the return of gubernatorial elections and the changes in formation of the Upper House, were perfect."All that has been done is absolutely right and we need these decisions to be fully and adequately implemented into being," he said, adding that "destructive forces" could attempt to take advantage of this liberalization, but must not be allowed to do so. Putin also stressed that the new rules on political party registration, though they might seem too lax, allow people to realize their political ambitions without taking legal recourse or to the streets.As for the established political parties, the president asked their leaders not to use excessive populism and to cooperate with the government, especially when debating the state budget. "It is very dangerous to inflate spending to an unacceptable level as tomorrow we might have to cut it," Putin warned, adding that the existing obligations on social policy will definitely be fulfilled.When the leader of the Liberal-Democratic Party suggested that "too much democracy would mean the end of the nation," Putin countered that any democracy implies a set of working laws. Following this logic would help to develop the country's political system until it reaches "the level that corresponds to the current level of the society's development and that will help Russia to take a decent place in the World," Putin said.The meeting with the heads of the parliamentary factions of the State Duma was the first in Putin's third presidential term and the first time it was held in the new format – each faction was represented by three MPs instead of one. The president said that in such a format, the meetings can become another place where the politicians could discuss ideas and present them to the public.
You can share this story on social media: