Ruble rebuke: Putin lashes out at ministers over budget
Published time: 19 Sep, 2012 18:27
Edited time: 20 Sep, 2012 08:23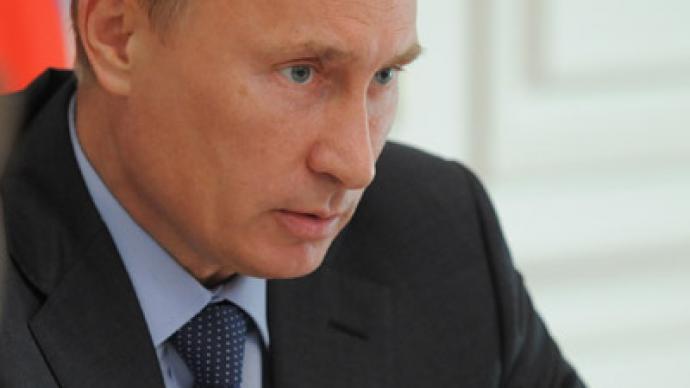 In his first public spat with the government since re-election, President Putin has taken disciplinary action against three ministers. The row has centered around a draft budget, which currently blocks Putin's social program.
­The disciplinary action was signed Wednesday after Prime Minister Dmitry Medvedev drafted it. Russia's president was dissatisfied with the 2013-2015 draft state budget plan, which provided for getting rid of the welfare spending promised by Vladimir Putin during his presidential campaign and later reaffirmed by presidential orders

Putin pledged to improve healthcare and education in Russia and invest more in scientific research, as well as numerous other proposals. Addressing ministers in July, Putin demanded the budget keep to his electoral promises.

But the charge did not go down smoothly. Putin's program demanded additional spending of over one trillion rubles (some $32,000,000,000), but the Ministry of Finances said they would be keeping to their "budget rule".

This meant the Ministry would focus on saving up to fight the deficit, expected to amount to 0.8 per cent of GDP in 2013 (over 500 billion roubles or $16 billion). The ministry, unlike Putin, was looking to slash spending on healthcare by 25 per cent in 2013-2015, while the education budget was set to be reduced by 10 per cent. The only sphere put forward by Putin, which the ministry found worthy of any additional spending, was the military.

Vladimir Putin discussing 2013-2015 draft state budget plan with ministers on September 18, 2012(RIA Novosti / Aleksey Druzhinin)
The public rebuke occurred only after the cabinet's draft budget was published, ending a lengthy period where the president and government had been heading in seemingly opposite directions.

"If we leave everything as it is said in the project, my [May] orders cannot be executed. I see it already now, and they must be executed," Putin said Tuesday.

The officials allegedly at fault are Oleg Govorun, who heads the Ministry of Regional Development, Dmitry Livanov of the Ministry of Education and Science, and Maksim Topilin, of the Labor and Social Security Ministry. Putin told PM Medvedev to draft an action against the three adding:

"A minister's job supposes personal responsibility for the sphere and if something is not being done, this means incurring personal liability."

The Ministry of Finances said Wednesday they "having been taking a budget maneuver" to find a trillion rubles in resources and meet Putin's demands, but overall it remains unclear whether any more changes will be made to the draft.

The time to implement any drastic change is quickly running out. By October 1, the projected budget must already be submitted for approval to parliament.