Putin slams billionaire talk show brawlers for "hooliganism"
Published time: 21 Sep, 2011 14:47
Edited time: 21 Sep, 2011 18:47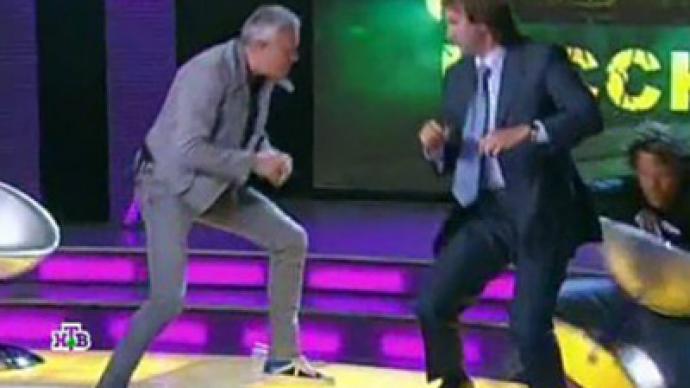 Prime Minister Vladimir Putin, with his trademark acerbic wit, has given a candid assessment of a recent television brawl involving two billionaire businessmen.
­During the recent filming of a political talk show, which was aired on Sunday across Russia, tensions spilled over as businessman Alexander Lebedev, 52, landed a big left hook against Sergey Polonsky, 39, following a heated debate.

Polonsky, 39, the former owner of Mirax, a major development company, did not attempt to fight back and was knocked clear off his chair.

He later displayed a bruise on his arm and torn jeans.

In the other corner, Lebedev, the owner of two British tabloids, claimed he had acted in self defense because Polonsky was "acting aggressively."

"In a critical situation, you don't choose: I don't see any reason to get hit first if you know it's coming," he explained.

Given the ample exposure that the incident attracted on television and over the internet, it was only a matter of time before the subject made the political rounds.

During a meeting of the Popular Front Co-ordination Committee (ONF), Putin answered a question by Alexander Shokhin, the head of the Russian Union of Industrialists and Entrepreneurs (RSPP), who wanted to hear the PM's opinion of the incident.

"We have a front, but we do not attack anyone," Putin said. "They do not have a front, but they punch each other in the ear. "Hooliganism," he added.

"We have veterans in the Popular Front who are not very young but very tough," Putin continued, to the delight of the audience. "We have an organization of veterans who fought in Afghanistan, and (against them) the brawlers will get their asses kicked, and they won't ask for more!"

Putin then inquired as to whether the RSPP has a Committee on Ethics.

Shokhin said that there is one, but "fortunately, the two entrepreneurs are not members of the RSPP and no one ever complains about each others' actions."

The head of the industrialists union went on to say that "the incident of that broadcast should have been discussed more thoroughly."
But it was Putin, the martial arts expert, who had the last jab.

"Can you imagine how they must fight for their money? They will rip each others' throats out," he said to laughter.