Putin and Medvedev not guilty in crisis – poll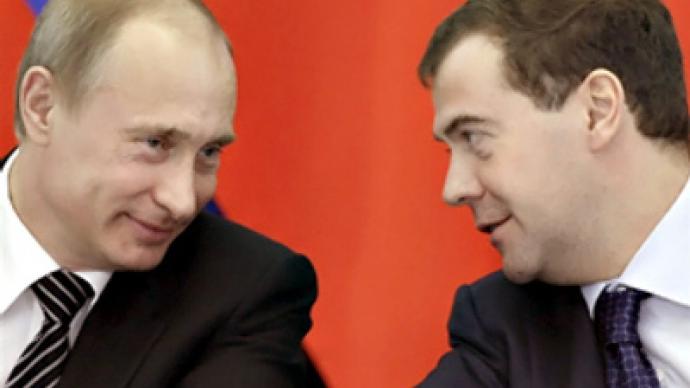 The majority of Russians see the current economic situation in the country as "bad". However, support for Russia's 'men with the plan' shows no sign of further diminishing following a slight decrease since autumn.
Public support for Russia's President Dmitry Medvedev and Prime Minister Vladimir Putin is stable, according to a monthly poll conducted by Levada-Center, a Moscow-based non-governmental public opinion research firm.
In March, the number those Russians who "approve Vladimir Putin's actions as Prime-Minister" remains the same as in February – 78%. Similarly, some 71% of Russians "approve Dmitry Medvedev's actions as President".
Only 25% of respondents disapprove of Medvedev's actions while disapproval of Putin is even lower – 20%.
The index of support for the duo has come back to its May 2008 level, which also speaks of stability. However, in September 2008 – following the war in South Ossetia – the duo's support was higher: 83% approved Medvedev, 88% – Putin. Since then, both ratings took a downturn, which now looks to be stopping.
This, however, doesn't mean that Russians don't feel the impact of the recent economic crisis.
Levada-Center poll facts
Conducted: March 20–23, 2009
Respondents: 1,600
Geo: 128 areas in 46 regions
Margin for error: 3.4%
VCIOM poll facts
Conducted: March 14–15, 2009
Respondents: 1,600
Geo: 140 areas in 46 regions
Margin for error: 3.4%
According to another poll, conducted by the state-owned public opinion researcher VCIOM, the majority of Russians (51%) are convinced that "things are bad" in their country, while 7% describe the state of events as "horrible".
For 29%, however, "things are normal", and for 2% even "good"; while 11% are undecided.
The benefit of speaking out
One of the explanations for the stability of the support for Putin and Medvedev is the lack of connection between them and the troubled Russian economy.
"The crisis doesn't affect their ratings directly, as they are symbolic figures. Also, people know that the crisis happens worldwide, while Russian authorities are combating it," Denis Volkov, a research fellow for Levada-Center said in an interview with Gazeta.Ru.
Another possible explanation is the Russian peoples' capability to adapt and survive tough circumstances. Memories of the 1998 financial crisis are fresh in the minds of the public.
Compared to August 1998, when the value of the U.S. dollar increased more than 400%, Russia is going through the current crisis without catastrophic shocks.
But the most likely reason for the stable approval for the president and prime minister is their numerous media appearances, during which both Putin and Medvedev report on their actions to tackle the crisis.
You can share this story on social media: