Putin criticizes "gigantomania" in theater architecture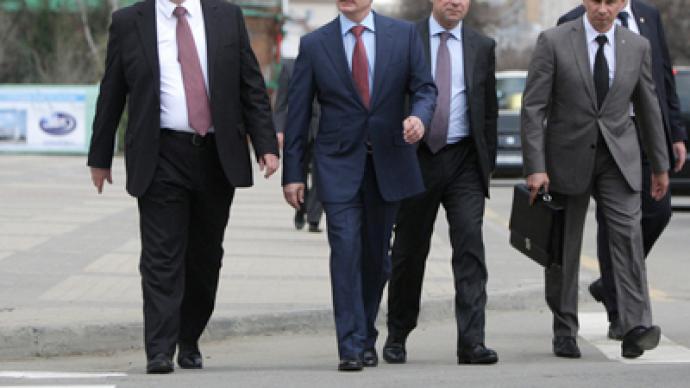 Prime Minister Putin is in the city of Penza to discuss the use of budget funds for the construction and reconstruction of culture facilities and to meet with famous Russian actors and directors.
Speaking at the meeting on the construction and reconstruction of culture objects, Putin said that it was time to move from creating typical Soviet-era type giant buildings to individual projects."We need theaters that would serve people, their education and cultural development of the entire nation rather than ambitious constructions and gigantomania," he noted. The premier also vowed to increase financial support for the development of culture in the country, raise salaries for those working in the area and said that the government is planning to launch a state program entitled "Russia's Culture". On Friday, the head of the Russian government arrived on a working visit to Penza – about 600 km south-east of Moscow.After the official meeting, he visited the local drama theater and briefly talked to citizens who were waiting on the square outside the building. Later, a video conference between the Penza theater and theaters in St Petersburg, Moscow, Ulan-Ude, Yaroslavl, Moscow and Astrakhan was organized. The main point of the event was "to consider the efficiency of the use of budget resources for the construction and reconstruction of cultural objects and to design new approaches to their financing in the coming years," the press service said as cited by Itar-Tass. Since 2006, the government has allocated 128 billion rubles (about $ 4.3 billion) for the purpose.The conference was followed by Putin's informal meeting with actors, producers and theater arts directors where culture-related issues as well general issues were discussed.Putin promised state support to national theater and cinema both in providing state orders and helping Russian authors to protect the copyright for their works at home and on the international market. Putin also apologized for lack of attention to cultural problems demonstrated by the Finance and Economy Ministries at the recent all-Russian Theater Forum and promised to solve all problems upon returning to Moscow.
You can share this story on social media: