New public TV must be independent - Medvedev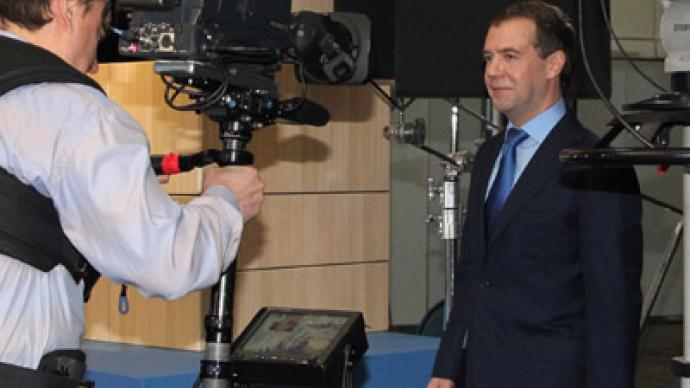 Russian public television must be organized so as to be truly independent from its owners, President Medvedev has said, stressing that he means both state and private investors.
Dmitry Medvedev held a working meeting with top officials from his administration and a representative of the Presidential Council on Human Rights dedicated to the creation of Public Television – an initiative that Medvedev first voiced last year in his address to the Federal Assembly. The president reminded officials that the deadline on the task was approaching. Medvedev told the meeting that those responsible for the issue must prepare the legal basis for the Public Television station. "It can be as simple as necessary, but this is important," Medvedev stressed. Another crucial point is to make the station completely independent from its owners, the president noted. "There can be several sources of financing and they must all provide Public Television with a very important quality – independence from the owners. I mean from the state and from private investors, if there are any," the president announced. Speaking on the management of the project, Medvedev said that this must be provided by bodies of public control formed with civil society. These will bear full responsibility and at the same time refrain from any interference in Public Television's editorial policy.In his annual address to the Federal Assembly last year, President Medvedev suggested that a Public Television station be created in Russia on the basis of one of the existing federal channels. Last month, Medvedev set the same task before a public committee of his supporters – a semi-formal assembly of civil activists, public figures and journalists. Medvedev told the committee it would be wrong to finance the project from the state budget, as people will not support new taxation. He also noted that taking money from businessmen was wrong because in this case the project would support the businessmen's interests. Medvedev said that he had his own ideas about possible sources of financing for the project, but has not yet disclosed what these might be.
You can share this story on social media: