Latvia's pro-Russian party rocks the vote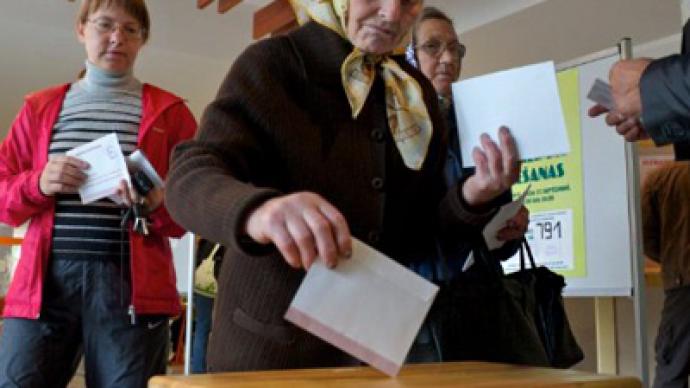 A party that works to protect Latvia's Russian-speaking minority has won early parliamentary elections, highlighting this Baltic nation's exasperation with politics as usual.
According to a preliminary ballot count released by Latvian media on Monday, the Harmony Center party, which is headed by Nil Ushakov, the mayor of Riga, pulled about 30 percent of votes.The victory, which stunned this Baltic nation of 2.5 million people, is all the more impressive when it is considered that about 345,000 Latvian "non-citizens" of foreign descent were not allowed to vote (The total number of registered voters in the country is 1,492,084, but only 826,219 actually took part in the poll, which comes out to be about 55 percent). The non-citizen status is mostly reserved for ethnic Russians and people of other ethnic roots who lived in Latvia since Soviet times but failed to meet the requirements for Latvian citizenship. These individuals have a residence permit, but are deprived of basic political freedoms.Harmony Center receives the bulk of its support from the Russian-speaking minority.Meanwhile, the Reform Party, headed by former president Valdis Zalters got slightly over 20 percent, and the Unity bloc headed by Prime Minister Valdis Dombrovskis a bit more than 18 percent of votes.In May 2011, then-president Zalters dissolved the Latvian parliament claiming that it had been "immersed in corruption". In July, a nationwide referendum supported the decision and new elections were announced.Despite its big win at the polls, Harmony Center may actually fail to get a seat in the new government as the Reform and Unity parties are now in coalition talks. It should be noted that Harmony Center's election program pledged to set aside pressing ethnic issues and fully concentrate on the national economy instead. Harmony Center said it would not raise the question of making Russian a second official language in Latvia, thus making it easier for thousands of non-citizens to receive Latvian citizenship, as well as basic political rights. To this end, Harmony Center made the suggestion to introduce a moratorium on all legislative initiatives dealing with national and language issues for the whole parliamentary term.Meanwhile, critics of the pro-Russian party said that its leader, Nil Ushakov, failed in his capacity as Riga mayor to help protect the rights of the Russian-speaking population and to mend relations between Latvia and Russia. They also allege that Ushakov has done nothing to save the remaining Russian schools in this Baltic country, nor has he changed the name of a Riga street, named after Chechen rebel leader Dzhokhar Dudayev.As promised, Harmony is shying away from such politically explosive topics, and instead focusing on more national issues, like suggesting increasing state pensions and delaying the repayment of Latvia's debt to the International Monetary Fund. At the same time, it says Latvia must do everything it can to meet the criteria for adopting the euro (the nationwide referendum on the subject is preliminary scheduled on 2013).Reform and Unity parties insist on financial discipline and tough measures to keep public order. The leaders of the two parties officially started the coalition talks on Monday.Harmony's supporters have already threatened nationwide strikes if Reform and Unity unite and form a government without Harmony Center's participation.
You can share this story on social media: