President Yanukovich blasts West Ukrainian city for ignoring Victory Day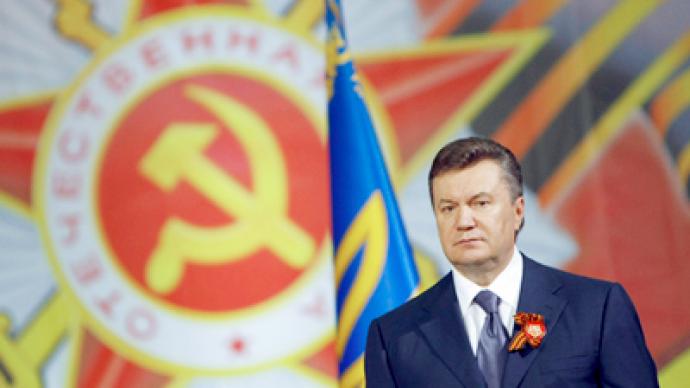 Ukrainian President Viktor Yanukovich has sharply criticized the municipal authorities of the city of Lvov for their announced decision not to take part in the victory celebrations commemorating WW II.
At a press conference on Monday, the President said that the decision was a display of disrespect towards a whole generation of people. "I think that this is disrespectful for the generation that had accomplished their mission in regards to our generation. This is a very bad decision," Yanukovich said. The Ukrainian leader asked the Lvov territorial legislature and all residents of the region to give more thought to the subject. "I support the idea that we should never forget those who created this day for us," he said.In May 2010 the Lvov Region's Council approved a decision not to call the traditional celebrations on May 9 "Victory Day" and instead call it the "Day of Memory of the Victims of the Second World War." The parliament also ordered to rescind the use of term "Great Patriotic War" in official documents, replacing it with "Second World War." The Lvov Region was part of Poland before the Second World War, and a part of the Austro-Hungarian Empire in times of Poland's division. Ukrainian nationalism is strongest in this part of the country and West Ukraine has traditionally been opposed to the industrial regions in the East of the country influenced by Russia and the Soviet Union. President Yanukovich won the elections thanks to support from the industrial East, while his main opponent – former Prime Minister Yulia Timoshenko – has always built her campaigns on Ukrainian nationalism and enjoyed support in Western regions. Her loss in the 2010 presidential elections and subsequent resignation from the post of Prime Minister allowed Ukrainian law enforcers to open a criminal case against Timoshenko, who was accused of abusing power while selling the country's greenhouse gas quotas under the Kyoto Protocol. On Monday Ukrainian prosecutors announced that they were opening a new criminal case against Timoshenko. "A criminal case has been launched against the former prime minister over abuse of power linked to the signing of gas contracts in 2009," a deputy prosecutor general said, referring to the gas deals between Russia and Ukraine in 2009. Also on Monday, Ukrainian prosecutors allowed the nation's former president Leonid Kuchma to go to Moscow for the celebrations dedicated to the Cosmonautics Day. Kuchma is under a travel ban as he is on trial over abuse of office connected with the alleged murder of the journalist Georgiy Gongadze.
You can share this story on social media: