Nationalist deputy teaches kids why their names are wrong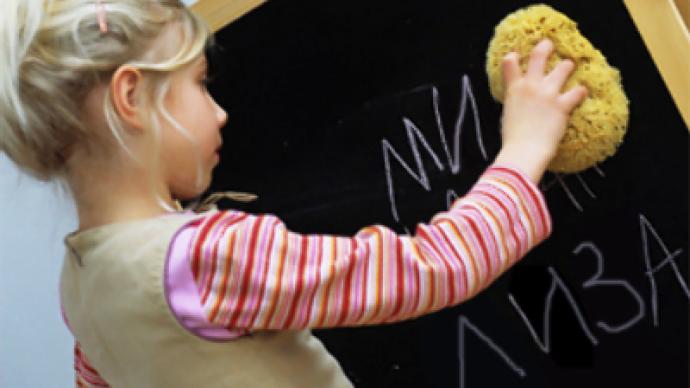 A major scandal over language issues has erupted in Ukraine, after a regional deputy in the western city of Lvov criticized children in kindergarten for having "wrong" Russian-styled names.
Irina Farion, who is a philologist and member of the radical nationalist political movement Freedom, visited a kindergarten on February 21, International Mother Language Day. This was no extraordinary event, since local activists had previously gone there with educational programs like giving stickers with Ukrainian words for household items, which would help children from Russian-speaking families to learn the language.
This time, however, things went out of control when Farion decided to talk to the children.
"We have twins, Misha and Liza. They told her their names. Irina asked the boy why he calls himself Misha rather than Mykhailo. I intervened and told her that the kids are from a Russian family. But Farion said names should be spoken properly," a teacher told Izvestia newspaper.
A lot of Russian and Ukrainian names have common etymology from the Bible, or from ancient Greek and Roman names, but are spelled and spoken slightly differently. Misha is a diminutive form for Mikhail, which is the equivalent to the Ukrainian name Mykhailo.
The visiting philologist went on to label names "right" and "wrong" depending on their form: "Masha is not our form. Let her go wherever Mashas live, but in our country we have Marichkas. Mykolka cannot be called Kolya, and Natalka cannot be called Natasha… Don't 'bearize' [referring to the symbolic Russian bear] our names," Farion is cited as having said.
This even went personal when she said that the name Liza comes from the word "lizat" meaning "to lick". The tease, as much of an offence as it may have been for the little girl, was also plainly erroneous, since the name is a diminutive form from Elizaveta, the Russian-styled Greek Elizabeth.
The "proper naming lesson" caused public outrage in Ukraine. A deputy in the President-elect's Party of Regions filed a complaint to the General Prosecutor's office, requesting an investigation into the incident and possible bringing of charges against her for inciting national hatred.
Meanwhile, the leader of the Freedom movement, Oleg Tyanibok, said they supported her actions and statements, reports RIA Novosti agency.
Irina Farion believes she did everything right. "Ukrainian kids must be called Ukrainian names. In the whole world, kids are named according to a sovereign nation's rules. They don't name children in a Jewish way in America! If parents don't teach children Ukrainian identity, I as a politician have to do it for them," Izvestia quotes her as saying.
You can share this story on social media: