Belarusian president looks to mend relations with all-time ally Russia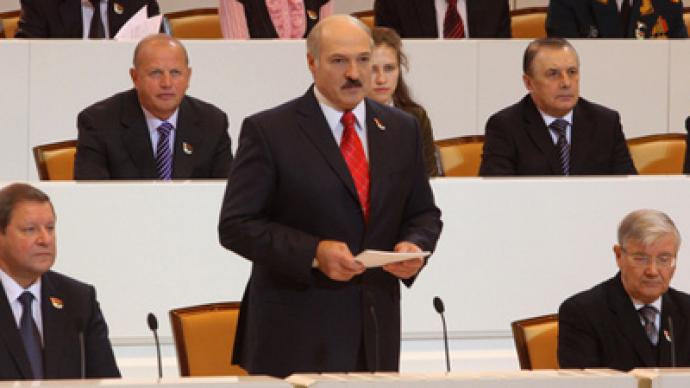 Belarusian President Aleksandr Lukashenko has reiterated his commitment to staying friends with Russia, following months of political fallout between Moscow and Minsk.
Speaking before the national assembly of Belarus on Monday, President Aleksandr Lukashenko announced he has no intention of falling out with Moscow.TASS news agency quoted the president as saying: "Calm down, don't criticize me. I know perfectly well that we can't afford a split with Russia. We used to be a single country. We are one people, we have the same roots. We will probably never cooperate with anyone as closely as we do with Russia".The statement follows months of political fallout, during which President Dmitry Medvedev criticized Lukashenko for his openly "anti-Russian rhetoric". Speaking on Monday, Lukashenko owned up to the accusations: "Everything we've been doing recently has nothing to do with politics or strategy – said the president of Belarus – it was all simply an emotional outburst, and it will surely pass."His speech comes on the eve of a crucial presidential election in Belarus, with incumbent Lukashenko hoping to get re-elected. He has been holding on to the top seat since 1994, leading some critics to call him the "last dictator in Europe".
You can share this story on social media: