Moscow police detain hundreds to prevent ethnic clashes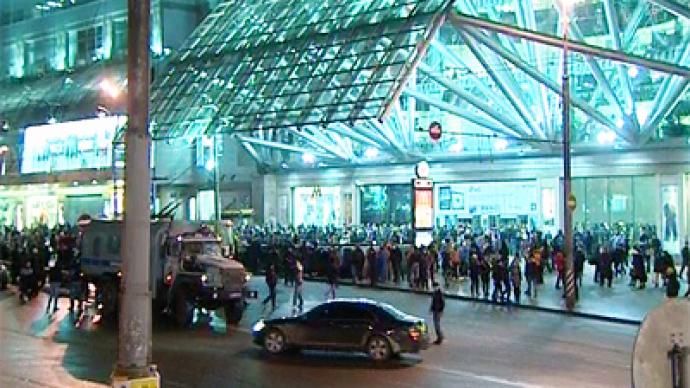 Moscow police detained about 800 young men on Wednesday to prevent a mass fight between football hooligans and people from the Caucasus region.
The mass fight was planned after about 5,000 football fans rallied in central Moscow on Saturday, December 11, to protest against the killing of their comrade by a man from the Northern Caucasus with a pistol firing rubber bullets. Demonstrators demanded that corrupt policemen who had released the fan's suspected killers from custody be brought to justice.Saturday's action, in which about 60 people were detained for disobeying policemen, was one of the largest rallies to take place in Moscow for many years. Football supporters held another rally on the same day in the north of the city which ended peacefully.Police awaited more riots on Monday, but tight police control ensured that everything was calm on that day.Wednesday's clashes were also anticipated by the authorities, as supporters of North Caucasus football clubs started distributing calls for a response action near the Evropeiskiy shopping mall. Russian football fans and young members of nationalist movements said they would also come to the site to demonstrate their position.Hundreds of police in riot gear were dispatched to Kiev Square near the shopping mall from early morning. Reinforced police details also were on duty near Metro stations. During the day officers detained about 200 young men, who had allegedly intended to take part in riots. Knives, screwdrivers, pepper spray cans and pistols firing rubber bullets were seized from those detained. According to police reports, most of the detained people came to Moscow from the northern Caucasus.At 6pm, police said the situation in central Moscow was under control. "The situation in the central part of Moscow has been normalized, the police are keeping the situation under control, "the head of the information department of the Interior Ministry's directorate for MoscowCity, has told the press.However, minor clashes did take place. Police broke up several minor fights and detained all rioters. About 1,000 people gathered at the square. Police closed the exit from the subway station and asked the people to disperse. The shopping mall was closed at 6pm local time.