Poland sponsored Belarusian opposition – report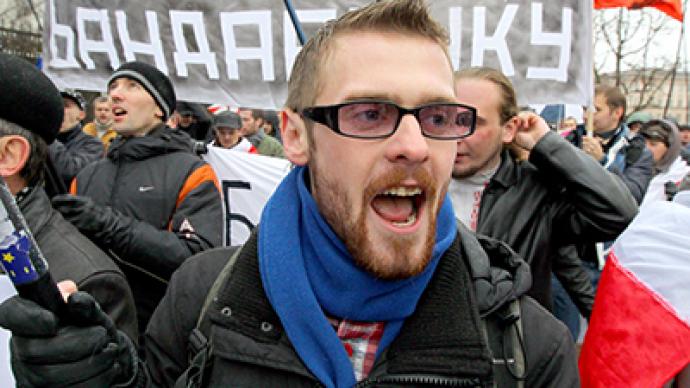 An American website has published allegations that Poland provided financial support to the Belarusian opposition, Polish daily newspaper Rzeczpospolita reported on Friday.
The newspaper did not clarify which website published data intended only for official use by the Polish Foreign Ministry. The documents were reportedly handed over to journalists by a ministry employee in the cooperation and development department. The database allegedly contained information about Warsaw's financial support for the Belarusian opposition from 2007 to 2011. The documents revealed sums of money that the foreign affairs ministry allocated to non-governmental organizations and individuals for projects like "the creation of centers for pressuring the government," the training of opposition activists before the election campaign, and improving public attitudes towards Poland. Aid was also reportedly provided to families of victims of political repression in Belarus, human rights activists, opposition TV channel Belsat and the Polish Diaspora in the former Soviet Republic. Experts said that Minsk may use this leak to justify a renewed crackdown on the Belarusian opposition.It is unlikely that new arrests would follow, but the Belarusian government may launch a new anti-opposition propaganda campaign, Svetlana Kailinkina, editor-in-chief of Narodnaya Volya newspaper told Kommersant, which published a follow-up to the leak story.Ales Zarembiuk, a representative of the Belarusian House in Warsaw argued that opposition activists could be at risk. However, the Polish media – not the database – revealed the names of those who received the financial support. "They may be discredited, put in jail or even recruited on the basis of the data mentioned above," Belsat TV channel's website quoted him as saying. "I do not think that Belarusian secret services played any part in it; it is just carelessness of the Polish officials who were responsible for information security."Minsk has repeatedly been scrutinized by the West for its failure to respect democratic principles. The country was fiercely criticized for its crackdown on the country's opposition following the 2010 presidential election, which secured longtime leader President Aleksandr Lukashenko a fourth term in office. Earlier in October, the EU renewed sanctions against the former Soviet republic for another year. Some 243 Belarusian officials, including President Lukashenko, and 32 companies are currently subject to travel bans and asset freezes within the EU. The decision came shortly after the September 23 parliamentary elections in Belarus, which were won by Lukashenko's supporters after a boycott by the opposition. The European Union blasted the elections as neither free nor fair. Lukashenko responded to the criticism in an interview with broadcaster Mir: "Belarus-EU relations are an endless example of EU attempts to turn upside down not only the history but also our country. Sometimes they make totally ungrounded claims based on double standard," he said.