'We're not clowns!': Patriarch tells clerics to behave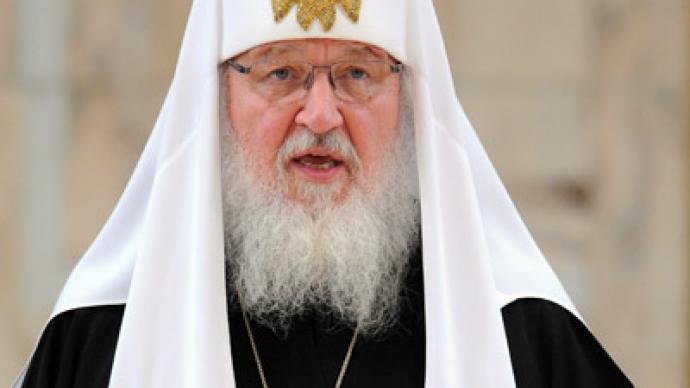 The head of the Russian Orthodox Church, Patriarch Kirill has urged priests to stop startling the public and making inappropriate jokes, but rather focus on doing good deeds.
"We sometimes witness priests who make shocking statements, excuse me, without rhyme or reason," Kirill observed. That can either be a result of "emotional inertia" – when a person gets involved in something and simply cannot stop – or a lack of responsibility, he pointed out.The clerics' words are often quoted and interpreted one way or another and, also, used to bash the Church, the patriarch underlined speaking at a festival of Orthodox media "Faith and Word" on Wednesday. The Orthodox Church repeatedly accused the media of launching an information war against it, while the press criticizes the top clergy for their alleged merger with the state, and the luxurious lifestyles and posh cars of some. The infamous Pussy Riot trial triggered a fresh wave of accusations, with the punk band's supporters insisting that the best demonstration of Christianity would be to release the women instead of sending them to jail. Controversial statements by some clerics only add fuel to the fire.Speaking on Wednesday, the head of the Church reminded priests that their duty is to visit hospitals and asylums as well as to help drug-addicts, alcoholics, youngsters and those who are still in search of their faith. "Such work brings less publicity," he noted, adding that striving for popularity is sinful.Patriarch Kirill pointed out that "shocking the public isn't our mission, let others do that," Interfax agency quoted. He urged "Orthodox communicators" to watch their words."Sick jokes" by some clerics rock the internet, while important statements by the Church go unnoticed as users are too busy discussing the jest, the patriarch lamented.Archdeacon Andrey Kurayev is one of the top Orthodox stars on the Russian internet, famous for his controversial statements. His comment on the Pussy Riot performance – as they put it, the "punk-prayer" – in Moscow's Christ the Savior Cathedral became a hit among bloggers and outraged many Orthodox believers. "If I were a sacristan in this cathedral, I'd feed [the girls] with pancakes and give each a chalice with mead," he wrote in his blog. "And if I were a head layman, I'd also pinch them a bit in a fatherly way to bring them to reason."He added that what they did was certainly a disgrace, but an acceptable one, since it was performed during Pancake Week (also known as Maslenitsa) – a traditional time for "buffoonery". The Eastern Slavic holiday is celebrated in the last week before Lent and marks the coming end of winter.Witty or not, it was intended as a joke. However, sometimes Church officials make rather serious statements reflecting their personal political stance. Earlier this week, Priest Sergey Rybko – known for his radical statements – called the participants of Russian anti-government protests "public enemies.""The opposition's activity simply weakens the state and we can lose everything as a result of that. I see no alternative to [President Vladimir] Putin who can hold power in the country," he told RIA Novosti.Russian Church officials stressed later that Rybko was voicing his personal stance, adding that "as a Russian citizen" he has a right to do so.