Opposition party contests registration denial, appeals to European Parliament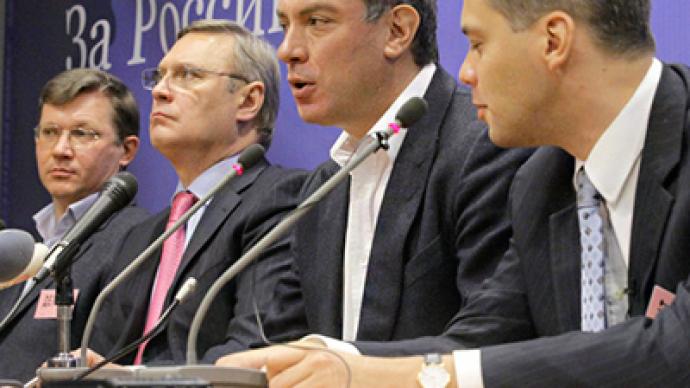 The People's Freedom Party, or Parnas, intends to contest the Russian Justice Ministry's recent decision not to register it.
Former Prime Minister Mikhail Kasyanov, who is a co-chairman for Parnas, said the party "will pass through each level of the judicial hierarchy" in Russia. Speaking at the party's conference at the weekend, he said that the grounds through which the party was denied registration were unlawful.Registration can only be denied over "a threat of secession, a threat to people's lives and health, violation of public morals, and infringing on the various rights of citizens," Kasyanov said. The Justice Ministry had cited numerous mistakes in the party's charter and other procedural violations. In particular, the list of party members in some regions included minors, the deceased and citizens who were not registered at the stated address.Two other Parnas co-chairmen – Boris Nemtsov and Vladimir Ryzhkov – supported the decision to appeal the ministry's decision in Russia, but are skeptical about the prospects of the move. According to Nemtsov, the leaders of Parnas will also ask European deputies to respond to the ministry's decision.Eight other parties had also been denied the registration, Nemtsov told Interfax on Monday. The issue will be raised at a meeting of the European Parliament this week, he said. Some deputies of the Parliamentary Assembly of the Council of Europe have already said the Russian ministry's decision was "an alarming signal." Some supporters and opponents of Parnas, however, believe it should try to submit the documents to the Justice Ministry for registration again upon correcting all of the mistakes. However, the party's leadership insists that this move is not likely to bring the desired result.President Dmytry Medvedev commented on the situation over Parnas in a recent interview with Moskovskiye Novosti daily. He said he did not see any political motives in the Justice Ministry's refusal to register Parnas. He also suggested that the opposition party "remove the 'dead souls' and then they will be registered." Medvedev also noted that "these citizens from Parnas are absolutely capable of submitting errorless documents" for registration. Any party should observe the current rules for registration, although they may be changed in the future, the president said.