Opposition forges applications to get registered – report
Published time: 21 Jun, 2011 08:30
Edited time: 21 Jun, 2011 16:03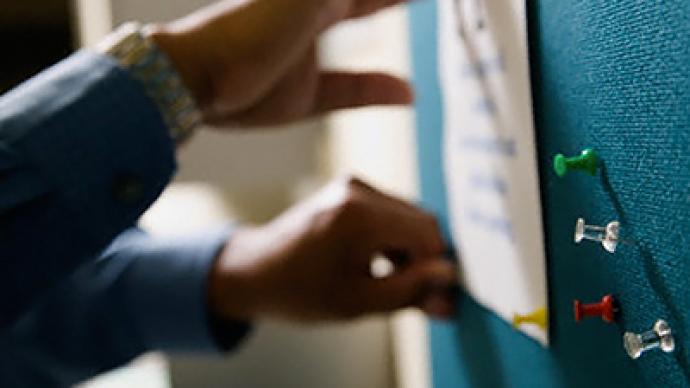 The registration of a new Russian opposition party called the People's Freedom Party (PNS) is up in the air now that the Ministry of Justice has reportedly revealed serious violations in the movement's documents.
Citing a source at the ministry, Kommersant daily writes that over a half of party members' applications in the Samara region were filled with administrative inaccuracies. Moreover, officials have doubts about the authenticity of around 200 of the membership applications.
"A check revealed that the fact of being party members cam like a bolt from the blue for several dozens of people. What this means is that they refused to even admit they had applied for party membership," the source said.
So far, no official confirmation of the information has followed.
The PNS's co-chairmen – Mikhail Kasyanoav and Boris Nemtsov – stated that the Ministry of Justice has now legal grounds to deny the party its official registration.
Meanwhile, Justice Minister Aleksandr Konovalov ruled out any political motivation behind a decision on whether to register a party or not and assured that officials would not fabricate any violations.
"I am not a politician and I cannot assess the pre-election prospective of one or another political party," he said in an interview with Profile magazine, which was published on Monday. The official stressed that the ministry acts strictly within its authority and its task is only to make sure that registration documents comply with the law. "I cannot anticipate the results of the [PNS documentation] inspection, but I can guarantee that no one is going to manufacture violations," Konovalov stressed.
The minister observed though that when analyzing reasons to deny registration to a public movement or a party, he often gets puzzled. "I cannot understand why these organizations make obvious…mistakes," he noted.
Established in December 2010 by Mikhail Kasyanov, Boris Nemtsov, Vladimir Ryzhkov, and Vladimir Milov, the new opposition party PNS, also known as Parnas, held the founding congress for its first regional branch in Moscow back in February. On May 23, the party submitted documents to the Ministry of Justice for registration. The party's aim is to take part in the parliamentary election in December 2011.
Under federal law, to be successfully registered, a political party must have at least 45,000 members and regional departments in at least half of Russia's 83 constituent units.