New opposition party to file for registration
Published time: 5 Apr, 2011 06:14
Edited time: 5 Apr, 2011 12:48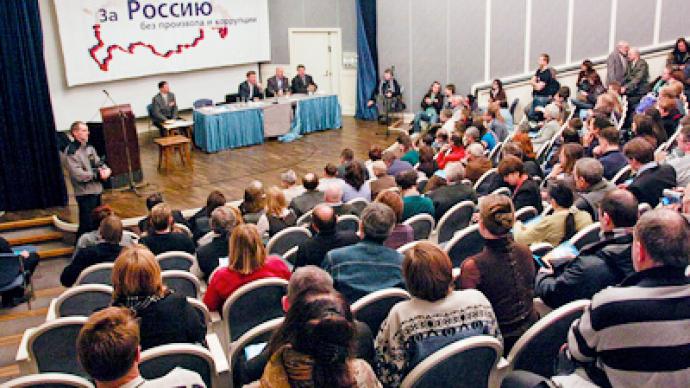 The leaders of the newly formed Russian opposition "People's Freedom Party (PNS)" say they will submit a registration request to the Justice Ministry by the end of April. However, they are likely to face some difficulties.
­According to the Russian law, to be registered successfully, a party should have at least 45,000 members and hold general conventions in more than 41 regions. As Konstantin Merzlikin, the secretary of PNS political council told Kommersant daily, they have not had any problems with organizing regional conventions. However, regional media has reported that the amount of deputies present at such meetings has been far below the figures required by the law. Thus, in the city of Chita in the Baikal region, slightly more than 90 deputies showed up, while the necessary minimum is 226. In the Komi republic the turnout was even worse, with only several dozen attendees. In the Altai republic the party managed to gather 160 supporters. 

One of the PNS leaders, Vladimir Ryzhkov, has said the media reports are not true. 
"We have fulfilled all necessary requirements," he commented. "The media understates the figures because we are an opposition party."
He added that they will submit all the documents needed for registration of regional party units. Still, he and his party fellows are skeptical about their chances to get registered, claiming that underestimating their regional conventions has become a general practice, especially after the publication of the "Putin. Corruption;" report, opposition leader Boris Nemtsov told Kommersant.

The party's founding convention took place on December 13, 2010. It was established on the basis of a coalition of public movements and organizations, including the Russian People's Democratic Union, the Republican Party of Russia, the Solidarity party, and Democratic Choice movements. Their heads, Mikhail Kasyanov, Boris Nemtsov, Vladimir Ryzhkov, and Vladimir Milov, formed the leadership of "Parnas", as the party is also referred to, an acronym which stands for "People's Freedom Party in Russia."