Uproar as LibDem leader Zhirinovsky attacks pregnant reporter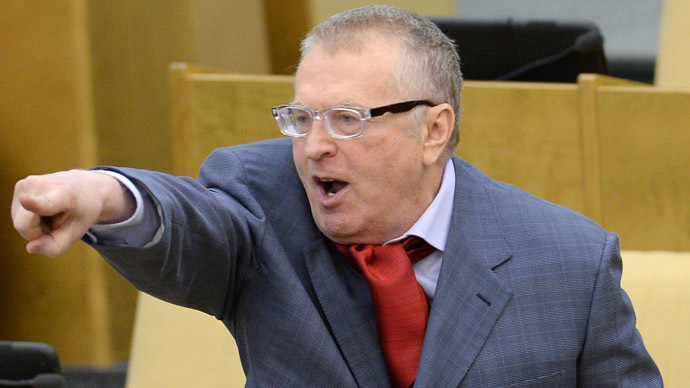 The flamboyant leader of the populist nationalist party LDPR could be silenced for up to three months by ethics commission over a bizarre incident in which he insulted a pregnant journalist before starting shouting Christian messages.
The attack that has already caused a major scandal in Russian media and political circles took place before the Lower House's plenary session on Friday.
A reporter asked Vladimir Zhirinovsky if Russia should reply to the entry ban recently imposed by Ukraine on Russian men, the politician made a loud and illogical speech, first accusing female politicians from Ukraine of suffering from nymphomania (to which he referred to by the obsolete term "uterine frenzy"), then suggesting that the reporter must have a similar condition. When the woman said she was pregnant, Zhirinovsky affectionately told her to stay home instead of going to work. After this he suddenly pushed one of his aides at the reporter telling the young man that he should "rape the woman hard." Then he shouted "Christ is risen! Truly he is risen!" and "kiss her!" several times, most likely hinting at the Easter celebrations two days away.
As another female journalist stepped in to defend her colleague Zhirinovsky called her a lesbian and passed several homophobic remarks.
The whole incident was caught on cameras and the reaction has been sharp and unambiguous.
Deputy head of the State Duma commission for ethics, Andrey Andreyev, told the ITAR-TASS news agency that for his stunt Zhirinovsky could be forced to apologize and lose the right to speak in the State Duma for up to one month.
Lower House speaker Sergey Naryshkin told Interfax that he deplored Zhirinovsky's behavior and offered apologies to the reporters instead of the LDPR leader. He has also asked the ethics commission to report on Zhirinovsky's behaviour.
67-year old Vladimir Zhirinovsky is the founder and leader of the Liberal Democratic Party of Russia (LDPR). He is also one of Russia's veteran politicians, whose career dates back to Perestroika times. From the very beginning he was known for heated arguments and bizarre statements that often led to disputes.
The more recent ones included forced birth control in the North Caucasus, restrictions on the sex lives of LDPR members, and claims the 2013 Chelyabinsk meteor was the test of a secret Russian weapon.