Former head of presidential HR commission approved as new Russian ombudsman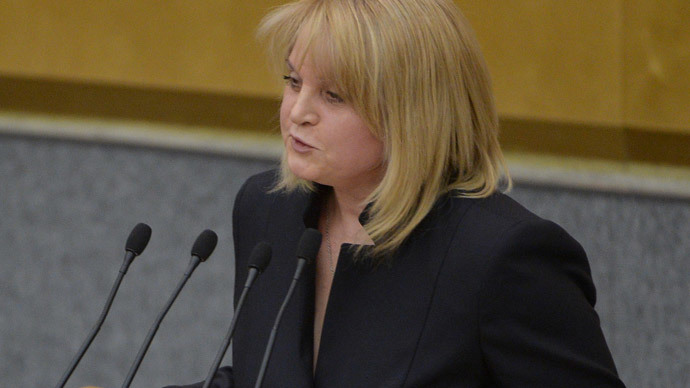 The State Duma has approved veteran human rights activist Ella Pamfilova as the new Russian Human Rights ombudsman.
The Tuesday vote was almost unanimous with 344 MPs supporting Pamfilova's candidacy and only three voting against. There were no abstentions.
Pamfilova was proposed for the ombudsman's post by President Vladimir Putin in mid-February in reply to a request by the Presidential Council for Development of Civil Society and Human Rights. Shortly afterwards the parliamentary majority party United Russia and the center-left parliamentary party Fair Russia supported the nomination and so did the Public Chamber of Russia.
Other people nominated for the post were Oleg Smolin of the Communist Party and Yelena Afanasyeva of the Liberal Democratic party but they failed to receive enough support at preliminary voting and the lower house voted on a draft statement with just one candidate.
Russia introduced the post of Human Rights ombudsman in 1993 together with the federal law regulating the official's responsibilities and interaction with government agencies and society. According to this act, the ombudsman is appointed by the lower house of parliament, but after this should not report or follow orders of any state official or agency.
Pamfilova addressed the State Duma after the vote and thanked the MPs for their trust and support. She also expressed gratitude to her predecessor, Vladimir Lukin, for backing her candidacy before the vote and for future help in assuming the post.
60-year old Ella Pamfilova is an experienced politician who started her career during the Perestroika period as a member of parliament and later as the Federal Minister for Social Protection of Citizens. Between 2002 and 2004 she chaired the presidential commission for Human Rights and promoted its transition into the Presidential Council for Development of Civil Society Institutes and Human Rights. She also heads the Civil Dignity public movement that distributes presidential grants to various rights and civil society projects.