Moscow outraged by Estonia's "glorification of fascists"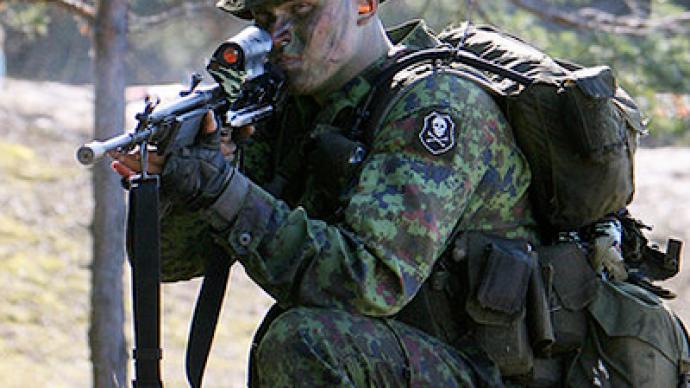 A sports and military competition called Erna Retk 2011 is underway in Tallinn. The Russian Foreign Ministry has condemned the event as an "act glorifying fascists".
Erna Retk is named after a Nazi international subversive group in Hitler's Abwehr intelligence service, which operated in the rear of the Soviet army in 1941. The competition has been held in Estonia since 1993. It is supported by Estonia's Defense Ministry and the General Staff. The participants of the competition have to demonstrate their weapons skills, knowledge of explosives, and ability to survive in extreme conditions. Thirty teams from Estonia, Denmark, Lithuania, Belgium, Finland, Switzerland and Georgia are taking part in the event. It comes to an end on August 6. According to the organizers, the closing ceremony will be attended by Defense Minister Mart Laar.Earlier, the Russian Foreign Ministry expressed indignation over a gathering of the veterans from the 20th Estonian division of the Waffen SS, which took place in Sinimäe on July 30. The three-day Erna Retk competition, Moscow says, "serves as yet more proof" of the "dangerous trend" of Nazi revivalism.   "Of particular concern is the fact that events glorifying Nazi abettors, which instills in young people the ideas of neo-Nazism, xenophobia and racism, and the revises the outcomes of the Second World War, are of a systemic nature," the Russian Foreign Ministry said.Russia has  called  for  "principled assessments  on  the  part  of Estonia's  partners  in  the  European  Union, NATO, and concerned international organizations."Estonia has insisted that the veteran's meeting in Sinimäe and the Erna Retk competition "fully comply with the internationally accepted practice of commemorating those who fell in World War II".The recent events have also been condemned by human rights organizations, among them the National Conference on Soviet Jewry (NCSJ), a leading Jewish human rights watchdog based in the United States, which called Estonian Nazi gatherings insulting to the memory of the victims of fascism and a propagation of neo-Nazism.
You can share this story on social media: