Youth Union vs "Satan's army"
Published time: 13 Sep, 2012 14:42
Edited time: 13 Sep, 2012 18:45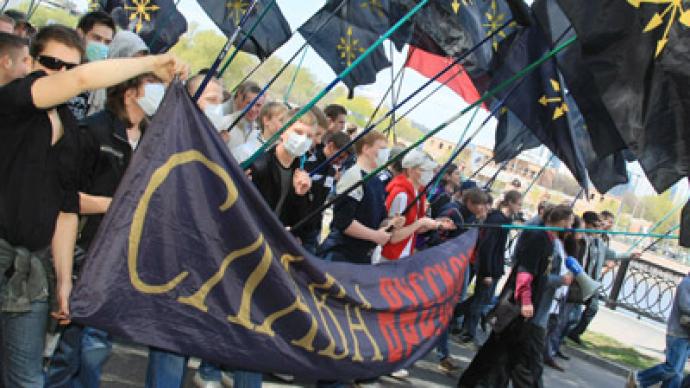 Activists from the Eurasian Youth Union are planning to hold their own rally – 'March of Billions' - as an alternative to the opposition rally, the so-called March of Millions scheduled for September 15.
The union's event is planned as an action against "devilish attacks on Russian civilization," its website states. The "Eurasians" plan to come out with "crosses and silver bullets to stop the hell".
The youth organization is planning to bring their supporters onto the streets in an attempt to convince the participants of the opposition rally that they are wrong and try to make them change their minds.
On Saturday, the March of Billions will move towards the opposition gathering on Pushkin Square in downtown Moscow, the leader of the group, Pavel Kanishev, told journalists.
The activist is confident the participants of the alternative rally will not be detained by the police since the event was agreed with authorities, cites Interfax.
The Eurasian Youth Union supporters "do not want violence," Kanishev stressed, adding that they had held similar events in the past and everything was peaceful – unlike the rallies organized by the opposition.
Meanwhile, the Moscow Mayor's Office says they have not received an application from the youth organization to hold a mass event. The capitals' authorities say that any unsanctioned rally will be suppressed in accordance with the law.
One of the organizers of the opposition march, the leader of Left Front Movement Sergey Udaltsov said they are not ready for any kind of clashes. He warned opponents against provocation.
"Our security service will be working to prevent people with bullets, crosses and daggers from committing illegal offenses," he said. Udaltsov pointed out that the route for the protest rally has been agreed with the city administration.
According to the opposition leader, the youth group activists are "victims of propaganda" who believe that all protesters are "western agents and devil's servants."
"We call on these 'Eurasians' to avoid making a mistake," he said.
The sanctioned protest will begin in central Moscow, on Pushkin Square, after which they will head to Sakharov Prospect where a demonstration will be staged. The organizers received permission for up to 50,000 people to take part in the rally.
Saturday's event will be the third March of Millions. The first one ended with violent clashes between protesters and police on May 6.
The second one – a lot more peaceful – was held on June 12. The number of participants varied widely according to different estimations – police reported that 18,000 people attended, while the protest's organizers claimed 100,000 were present.
Just as on previous occasions, the protesters are going to demand President Putin's resignation, snap elections, freedom for "political prisoners" and social justice.