Two opposition parties end boycott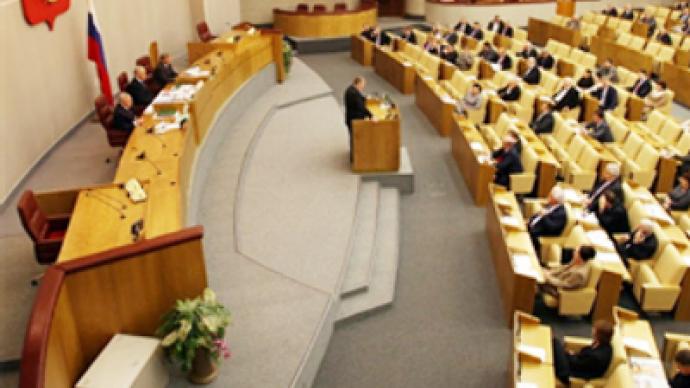 Two of the three opposition parties which refused on Wednesday to take part in the Duma session in protest against the results of regional elections last week have returned to their posts.
The Liberal Democrats and the Fair Russia party have taken part in the parliamentary session while the Communists stated they will decide when they will get back to their legislative duties next week.
Opening the session on Friday, the State Duma Speaker Boris Gryzlov expressed hope that all political forces will come to an agreement.
The Liberal Democrats leader Vladimir Zhirinovsky, for his part, noted that his party agreed to resume work after it was promised a meeting with President Medvedev.
"We are returning, we are going to work us usual. We were promised a meeting with the president. We have also agreed that each faction can make five-minute political statements on session days," he said.
The head of Fair Russia has called their move on Wednesday a "moment of truth" which made the ruling party hear the voice of the opposition. He added that it was not a planned action, yet it was not spontaneous either. He also said that they decided to get back to work as they are aware of their responsibility to their voters.
Still, the opposition says they are not satisfied that the president hasn't agreed for an immediate meeting with them.
Friday's session with 30 issues on the agenda only lasted for two-and-a-half hours. None of the opposition members took the floor or asked questions concerning the draft laws in question. Consequently, speculations have appeared in the media that suggest they are continuing a "quiet" protest. The Duma's Vice Speaker, Oleg Morozov, has dismissed this as groundless.
Meanwhile, President Medvedev has thanked the opposition for the constructive proposals they came up with, especially now that the work on his address to the Federal Assembly is underway. He told journalists on Friday that he is happy with how it is progressing.
"The opposition always gives me interesting ideas," Dmitry Medvedev said. "I personally read some of the proposals on the Kremlin website and on livejournal. But it is essential to pick up the most relevant ones as the address has its limits."