President steps in to calm down opposition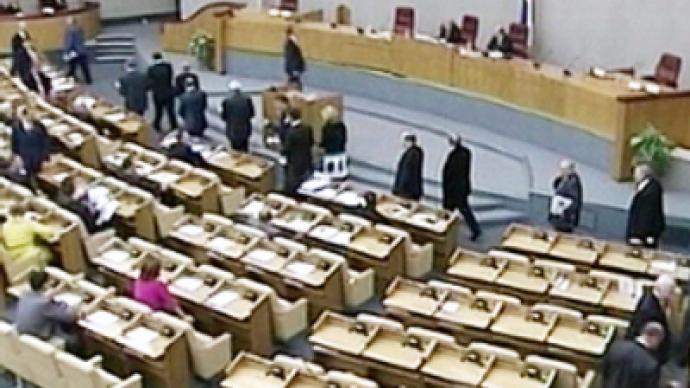 President Medvedev will meet with the leaders of three opposition parliamentary factions following their refusal on Wednesday to take part in the Duma session. The statement comes from the president's press office.
Their move was in protest against the results of local elections which they say were rigged.
"On Wednesday, the President had telephone consultations with the leaders of the Liberal Democrats and the Communists. Taking into account the demands of both party leaders, the President has asked his aides to find the necessary time," said Dmitry Medvedev's press secretary, Natalia Timakova.
Originally there was a meeting scheduled for October 27 which is supposed to focus on the President's address to the Federal Assembly. Given the recent events, it could now take place earlier.
After the telephone conversation with the president and Thursday's consultations between the parties' leaders and United Russia leader Boris Gryzlov, at least two of the opposition parties – Fair Russia and the Liberal Democrats – said they will return to the assembly hall on Friday.
Boris Gryzlov announced that the head of the Central Election Committee Vladimir Churov will be invited to the session on October 23 with a report on the elections.
However, the Communist Party does not plan on returning to the assembly hall so soon and, according to Vadim Soloviev of the party's Central Committee, they will watch "how the situation will further develop."
"We will wait until they tell us definitely when the meeting with the president will take place," he said.
He has also failed to confirm whether the party will take part in a Duma session on October 21, when the 2010 budget will be discussed.
The Duma opposition – the Fair Russia party, the Communists and the Liberal Democrats – protested the outcome of regional elections held on October 11. In most regions it was the ruling United Russia party that got the majority of votes.
The Central Election Committee says the failure of the opposition parties to get enough votes is due to their inefficient election campaign. Its head, Vladimir Churov, has also stated that there will be no reelection.
According to a survey by the All-Russia Opinion Research Center, the opposition factions had a very low rating ahead of the election and stood little chance in most regions. United Russia, on the contrary, had more than 50% of support, says a Levada Center survey.
Opposition's actions illegal?
Meanwhile, the head of the Central Election Committee Vladimir Churov has said that the opposition's actions are a call to disrupt the law.
"There is a certain legal procedure to dispute election results: before announcing final results it is possible to appeal to the Election Commission of a higher rank, and after official protocol is signed – to the court," he said.
"To ask higher government officials or the Central Election Committee to interfere… is a call for a direct violation of the law," he added.
You can share this story on social media: