Opposition finally opens branch in Moscow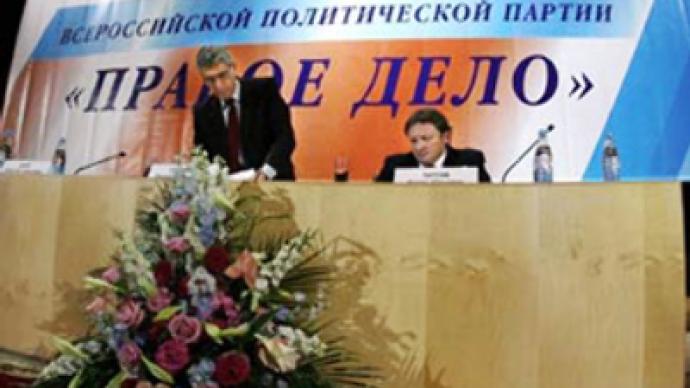 The Moscow branch of the recently formed opposition party 'Right Cause' has been finally established. Well-known lawyer Igor Trunov was appointed the head of the branch and will lead it during the elections.
The first conference held by the Moscow branch of Right Cause was held on Saturday, February 28. The opposition party, which is often accused of being too close to the Kremlin by many politicians and experts, has finally chosen the leader who will lead the party during the upcoming election for the Moscow City Council.
The co-chairman of the Party Leonid Gozman says that now the party needs to work out a clear program and then to win the Moscow City Council elections.
"If we lose on the elections the party will not be", Gozman says. The party's future is in the hands of the people and "it's for them to decide whether we are a real organization or clowns".
Gozman underlines that «[Russia] will not overcome the crisis if the economic measures will not be supported by a systematic political reform.»
Boris Titov, the other co-chairman of Right Cause, says there's still no unity within the party.
Igor Trunov had taken the spot previously occupied by Evgeny Chichvarkin, the former co-owner of the major cell phone company 'Euroset'. Chichvarkin was supposed to head the Party's Moscow branch, but has been charged with abduction and extortion in absentia.
Trunov says he's ready to give the post back to Chichvarkin if he returns to Russia from the UK and if the charges against him are dropped.
Chichvarkin's case
Moscow City's Court has refused to satisfy the cassation claim of the former cell phone boss's defence over Chichvarkin's arrest in absentia, previously sanctioned by the Basmanny Court of Moscow. The decision came into force on Monday March 2.
Chichvarkin's lawyers say they intend to appeal to the European Court of Human Rights. Lawyer Vladimir Zherebenkov says the charges against his defendant were placed in his absence and without the assistance of his lawyers. In his opinion this is an infringement on the defendant's rights.
According to the investigation, at the beginning of 2003 Euroset security employees abducted the company's shipping agent Andrey Vlaskin. Euroset management suspected him of stealing a large number of cell phones.
Chichvarkin is now on the Federal wanted list.
You can share this story on social media: