Open Skies surveillance flights begin over Russia
Published time: 7 Nov, 2011 12:42
Edited time: 7 Nov, 2011 18:09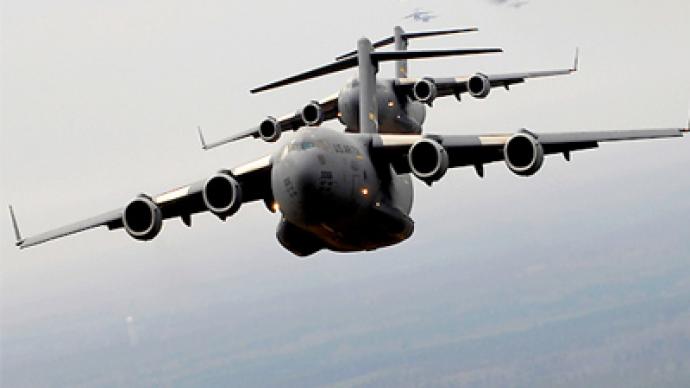 In accordance with the Treaty on Open Skies, US and German military personnel will conduct observer flights over Russia, the Russian Defense Ministry press service has reported.
­According to the defense ministry, the path of the observation flights, which will go from November 7 -12, has been agreed upon in advance.

"The flight will go according to an agreed route and in strict accordance with the achieved agreements on the use of technical surveillance facilities," the ministry said in a news release on Monday.

The observation plane, a 35-seater Boeing OS-135B, carries special cameras that have been approved by international observers, including Russian specialists, the document says.

Meanwhile, Russia will be conducting simultaneous observation flights over Spain and Portugal.

"In the same period – November 7-12 – Russian officials will fly over the territories of Spain and Portugal," the document says.

Image from thinkquest.nl
The Russian observation mission will be carried out with the TU-154M LK-1 plane.

In August, Russia conducted an observation mission over US territory.

According to political analysts, the Treaty on Open Skies is a successful confidence-building initiative that coordinates unarmed aerial surveillance flights over the entire territory of its participants.

"By the early 1990s…a norm of transparency had become thoroughly entrenched in the security area among the former adversaries of the Cold War," Ann Florini wrote in the International Journal on World Peace. "Two decades ago they were prepared to send one another into oblivion. Now, they think nothing of providing one another with detailed listings of all military holdings and inviting one another's military commanders to check out their latest equipment."

Military personnel hope the success of the Treaty of Open Skies will lay the groundwork for more cooperation between Russian and Western security projects.

The Treaty on Open Skies represents "a solid regime and the observation flights serve to enhance military transparency and provide an opportunity for our governments – in most cases, military personnel – to regularly and effectively work together," Rose Gottemoeller, Assistant Secretary, Bureau of Arms Control, Verification and Compliance, said in June at the OSCE meeting in Vienna.

Signed in Helsinki in 1992, the Treaty on Open Skies currently has 34 state members.
Robert Bridge, RT