Medvedev's interview entrapped in the Net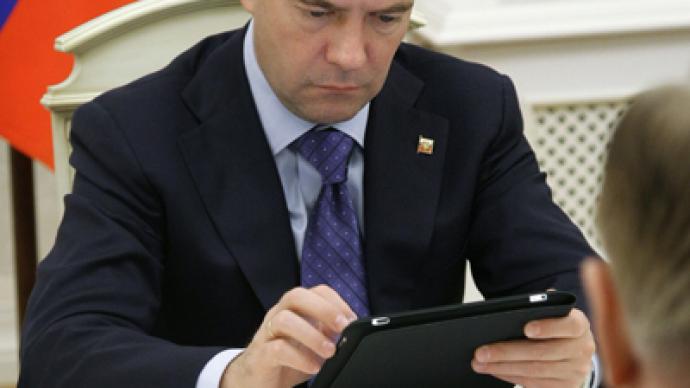 Social networks are abuzz with chatter about Dmitry Medvedev's televised interview. This time though it is not just 'joe public' but state officials are also participating.
Medvedev is leaving his post in May and gave his last interview as President to five Russian TV channels on Thursday.Private TV channels were included in the questioning panel for the first time, and it was journalists from the 'coal face' not the high flying heads of channels who grilled the President. Russian internet users say it breathed new life into the format as the questions were sharper and the atmosphere was more relaxed. "Of course, it should be admitted that Medvedev is 'up for it' for having agreed to an interview in such a format," a popular whistle-blowing blogger Aleksey Navalny wrote. It was obvious that journalists would "troll" him, "but he wasn't afraid," he added. After the conference, the discussion continued on the social networks. Commenting on Medvedev's news conference, journalist Lyudmila Telen noted it was the first time in about 12 years that she heard "a normal journalistic interview" with the President. "As it appears, there are professional journalists who don't die of fear when seeing a high-ranking official," she wrote. "The President is not interesting, but colleagues did well," Telen added. Medvedev's Press Secretary, Natalya Timakova hit back asking "Why are you watching it, if the President is not interesting?" The journalists responded saying that it was her colleagues' work she was watching."The colleagues' work is possible largely thanks to his presidency," Medvedev's spokesperson pointed out. There is nothing new about the web being a site for all sorts of discussions. The new trend is that top civil servants are getting involved in such chats.
You can share this story on social media: