We all are children of one fatherland – Putin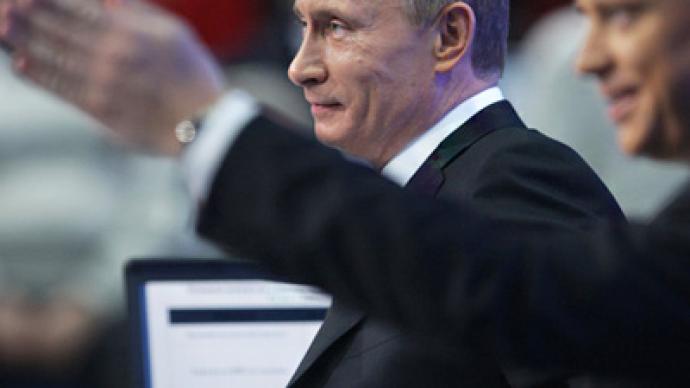 All citizens of Russia must feel secure, regardless of their place of birth and the region they live in, because they all are citizens of one country, Prime Minister Putin said during his annual Q&A session on Russian TV.
Watch Vladimir Putin's Q&A session Part 1
Watch Vladimir Putin's Q&A session Part 2
Watch Vladimir Putin's Q&A session Part 3
Watch Vladimir Putin's Q&A session Part 4
Putin was addressing numerous concerns of the Russian people, who are afraid of ethnic clashes after tension over the issue surged this month. The pro-Slavic population speaks of crimes committed by those who came from Northern Caucasus, while the latter fear hate attacks by the nationalists."Any display of extremism must be cut short immediately. People from all parts of Russia, whether from they are from the North Caucasus, Far East, Siberia or central Russia, should feel comfortable regardless of where they live. The state, local authorities, NGOs and most importantly all Russian citizens themselves, regardless of their ethnic origin and religious beliefs, should realize that we are children of one country and feel comfortable in any part of this country," he said."People should behave accordingly. It's unacceptable when a person from the North Caucasus is afraid to walk the Moscow streets, or when a person of Slavic origin is scared to live in the Caucasus. I want to stress: Russia originally formed as a multinational state," Putin added.Putin compared nationalism to a virus that most people have, but which nevertheless cannot harm a strong organism."Radicalism has always been present in society. Just like viruses: they are present in almost every person, but if you have a good immune system, then you're not affected by those viruses. Similarly with society – if it's mature then these viruses of radicalism and extremism are just present there somewhere in your cells, they can't do anything. But as soon as society becomes weak, your immune system goes down, then diseases start to develop," he said.
Police reform much needed, but can't be hasty
Prime Minister also spoke in favor of the Russian police, despite all the instances of misconduct they may be accused of."While we fight against negative developments in law enforcement bodies including the police, here we shouldn't paint everyone black as well. These bodies have a most important function, and should not be made bite the dust. Otherwise our liberal intelligentsia will have to shave their beards, put on helmets and go to the squares to fight against the radical activists," Putin said.The chair of the Russian government elaborated on the police reform, giving as an example the situation in the city Kushchevkaya in the Krasnodar Region, where an investigation revealed an overwhelming degradation of local authorities, which left gangs to operate unchecked."All local authorities failed there. It was not only about police. Where was the prosecutor's office? Where was the FSB? The drug police? The courts? It was a total failure of the entire law enforcement system. And where were the regional authorities? Did they not see anything?" Putin pointed out.Putin also defended the bill which, in 2004, changed the order of appointing governors in the regions, placing the decision in the hands of the president. This was done, Putin pointed out, to protect citizens."One of the reasons we did that was because we wanted to prevent criminals from getting into power. Unfortunately, in our situation, where the civil society doesn't work effectively yet, with the so-called direct elections you often have crime rings behind some candidates, and they use their illegal money to affect the election campaigns and their outcomes. Now, when candidates are nominated by the president, but have to be approved by the local assembly, this more-or-less prevents us from having criminals get into power," he explained.
Khodorkovsky's fate is better than that of Madoff
Vladimir Putin commented on the trial of Mikhail Khodorkovsky, former owner of the Yukos oil company, who is already serving a term for tax evasion and is now accused of fraud. Putin compared Khodorkovsky with US financial criminal Bernard Madoff, who received a much harsher punishment for a similar crime involving similar amounts of money."I don't speak against him personally. But I remind you that the Yukos head of security is in prison for murders. They didn't like the mayor of Nefteyugansk – killed him. A woman here in Moscow didn't let them have her property – killed her. They killed a killer they had hired earlier – only his brain was found in a garage. So what? Did the head of security do those crimes on his own initiative?" Putin said.The prime minister added that it is the court's job to establish whether Khodorkovsky is guilty or not of the new crimes he is accused of.
We have to take new historical realities for granted
An influential leader of the Russian biker movement asked Vladimir Putin about possible re-integration of Ukraine and Russia, citing the PM's own words that "whoever does not want Ukraine and Russia to be one has no heart, but whoever does want it has no mind."The prime minister said new historical reality is that Ukraine, Belarus and other former member republic of the Soviet Union are now independent nations, and Russia has to take it for granted. Instead of some kind of political unification, Moscow is now pursuing economical integration with these new nations.Good examples of this are the Customs Union between Russia, Belarus and Kazakhstan formed recently and the future common economic space formed by these countries. Together it will be as big as that of the European Union, Putin said."If Ukraine joins these integration processes in some form, it would be a powerful and important boost towards preserving whole industries of Ukraine's economy and would help improve competitiveness of many of our businesses," Putin added. However it is a sovereign choice for the Ukrainian people, he stressed.
Traitor executions are no longer practiced in Russia
Putin dismissed allegations that he may have given a secret order to execute the traitor in the Foreign Intelligence Service responsible for the exposure of 11 Russian agents in the US. The allegations came after he said that traitors "don't live long"."In Stalin times we had units of the secret service which carried out such missions if necessary, among others. Such units have long been abolished," he assured.Russia does not send assassins to foreign lands, although the practice lives on in some modern countries, he added.As for the traitor in question, Putin explained, he will be punished by his own conscience for betraying fellow officers, who jeopardized their lives to serve their country."How will he live on? How will he look his children in the eye, this swine? The 30 pieces of silver he received for it will be a lump in his throat. A man who chose such a fate will regret it a thousand times," he said.
Opposition wants money and power
Vladimir Putin lashed out at some activists of the liberal opposition, particularly Boris Nemtsov, the deputy prime minister before the default of the government in August 1998.According to Putin, Nemtsov and some other opposition leaders barely represented in Russia's current public politics want "money and power.""In their time in the 1990s, they got their share of the stealing, took quite some billions of rubles, together with the likes of Berezovsky and some other folk, who are now serving their terms. Now they have been dragged away from the cash cows, they're somewhat short on money and they want to come back and line their pockets," alleged the prime minister.If such people are allowed to be in power again, they "will sell out the whole of Russia" this time.
Medvedev and I take turns sleeping
The Q&A session had its share of lighter moments. For instance, one of the questions was about who rules the country when Putin and Medvedev are asleep. "We take turns. Everything is under control, be sure," Putin joked.One critical person asked whether Putin was ashamed to look Russians in the eye. "No, I'm not," he replied.The prime minister added some of the things he did in his current position and earlier as president could have been done better from some points of view. They would have had different negative consequences however.Nevertheless, he apologized to another angry woman, who demanded that jokes about mothers-in-law be banned."I have to apologize to you. I sometimes tell such jokes too," Putin confessed.
Olga Kamenchuk from the Russian Public Opinion Research Center says that, according to opinion polls, half of all Russians follow such question-and-answer sessions and approve of the format."The way this is done creates an illusion of communication with the president – or this time the prime minister – with the population. The population feels like their questions and concerns are heard, and some of their questions are answered," she said.
According to Sergey Strokan, political commentator from Kommersant newspaper, throughout the session Putin remained true to himself, mostly repeating the statements on the pressing issues that he has expressed before, but there still seems to be great demand for such interaction with the public."This was the ninth question-and-answer session with Vladimir Putin, and his third one in the capacity of prime minister. This was by no means a PR exercise, for the simple reason that he got nearly one million questions. It is quite understandable that there is a huge demand for Vladimir Putin to appear on stage and answer [questions on] the most burning issues," he said.
You can share this story on social media: