Opposition figure Navalny announces parliamentary ambitions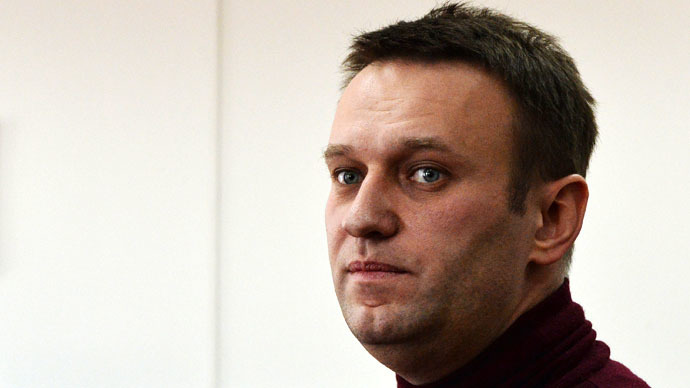 Anti-corruption blogger-turned-politician Aleksey Navalny has announced that his Party of Progress will press for participation in 2016 parliamentary polls using all means, including street protests.
Navalny spoke at the weekend convention of the Party of Progress and told his allies that the preparations for elections were extremely important even though he expected the authorities to do everything to prevent the "progressives" from taking part in the nearest federal parliamentary polls. He emphasized that the preparations must begin as soon as possible as, he claims, the State Duma elections could be called earlier than scheduled.
By appearing at the convention Navalny again violated the conditions of his house arrest. The activist had been ordered to stay at home and steer clear from blogs and social networks during the process on the so-called Yves Rocher case – a probe into large scale embezzlement scheme involving Navalny and his brother Oleg. In late December the court found both brothers guilty and sentenced Oleg to three-and-a-half years in prison.
Aleksey received a suspended sentence but the court ordered him to remain under house arrest until all possibilities for appeals are extinguished the sentence comes into force.
READ MORE: Moscow court upholds house arrest for Navalny
Navalny also told his party colleagues that in 2016 they must run primaries and come up with a list of candidates. He added that he expected the authorities to bar all these people from participation and in this case the party must back other candidates from the opposition coalition – a relatively small group of pro-market personalities and movements.
The Party of Progress leader also noted in his speech that when the authorities bar candidates from the polls all activists must take into streets.
"Nobody would include us in the election bulletins if we don't make them do so through mass rallies," Interfax quoted the activist as saying.
The Party of Progress was officially registered by the Justice Ministry in February 2014 after a lengthy row with environmentalists and freemasons, who claimed that they had more rights for the project's initially-intended name.
READ MORE: Navalny caves in to freemasons, renames party
Aleksey Navalny has gained significant popularity because of his anti-corruption blog and his role in creation of a web-based crowd funded anti-corruption project RosPil. From the beginning Navalny has been extremely critical of the authorities, especially of the ruling centrist party United Russia, blaming them for creating and maintaining the system that allows for tremendous corruption schemes.
In 2013, he ran for Moscow mayor and came second with over 27 percent of votes. After the poll Navalny said he has enough public support to officially associate with the party of his supporters. Up to then he preferred informal cooperation, claiming that otherwise the authorities would apply pressure to a young project.
Despite his constant anti-corruption rhetoric, Navalny himself has become a suspect in several criminal cases involving graft and embezzlement. Two of them have already ended in a conviction – apart from the abovementioned Yves Rocher case, Navalny received a five-year suspended sentence for his role in the large-scale embezzlement at a state owned timber company Kirovles.
READ MORE: Anti-corruption blogger Navalny sentenced to 5 years behind bars for embezzlement
You can share this story on social media: