Navalny caves in to freemasons, renames party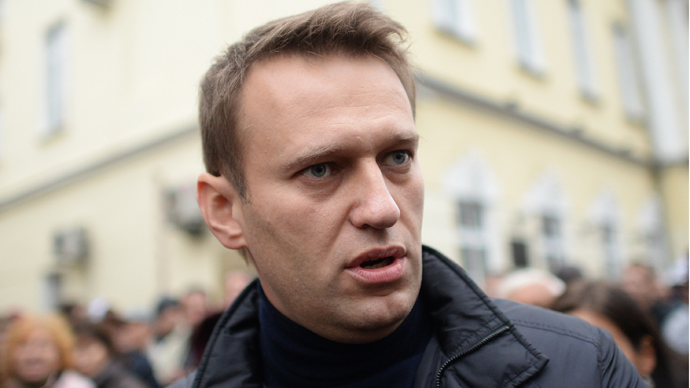 Aleksey Navalny has decided to stop a seemingly-endless court battle with Greens and freemasons by giving his future party a new name, chosen at a secret meeting. It will now be called 'Party of Progress'.
Navalny personally announced the news on his Twitter feed, adding that the rebranding was a forced move after competitors, to whom the popular blogger referred as "Kremlin crooks," "stole and registered" the original name 'People's Alliance'. The blogger added that the new name was invented just a day earlier in strict confidence so that the enemies could not steal it as well and rename "one of their parties."
The incident mentioned by Navalny took place in December last year. Then, the Justice Ministry re-registered the Rodnaya Strana (Native Country) party - founded by professional political consultant and the Grand Master of Russia's Great Masonic Lodge Andrey Bogdanov - under the name People's Alliance. Prior to that, the ministry had rejected applications from Navalny's supporters for procedural reasons and various minor violations.
Bogdanov himself described the renaming as a friendly move, saying that he simply wanted to help the popular anti-corruption blogger by having an already-registered organization. Navalny, however, has rejected the possibility of such cooperation and called Bogdanov's party a fake.
Another of Navalny's unsuccessful registration attempts was also connected with the name of the project. In May 2013, the existing group 'Alliance of the Greens – People's Party' complained that the People's Alliance was using words from its official name. Russian law forbids a political party from using other parties' names, even in part, and the Greens threatened to sue the Justice Ministry if the registration procedure continued.
Aleksey Navalny has gained significant popularity because of his anti-corruption blog and his role in creation of a web-based crowd funded anti-corruption project RosPil. Navalny is extremely critical of the authorities, blaming officials for creating and maintaining the system that allows for tremendous corruption schemes. His primary target is the parliamentary majority party United Russia.
In 2013, he ran for Moscow mayor and came second with over 27 percent of the votes. After the poll Navalny said he has enough public support to officially associate with the party of his supporters. Up to then he preferred informal cooperation, claiming that otherwise the authorities would apply pressure to a young project.
Despite the staunch anti-corruption rhetoric, Navalny himself has become a suspect in several criminal cases involving graft and embezzlement. One case has already ended in a conviction – in mid-July last year Navalny was sentenced to five years behind bars for his role in the large-scale embezzlement at a state owned timber company. The sentenced was commuted as suspended after an appeal by prosecutors.
You can share this story on social media: