Obama and Medvedev to meet on sidelines of G8 summit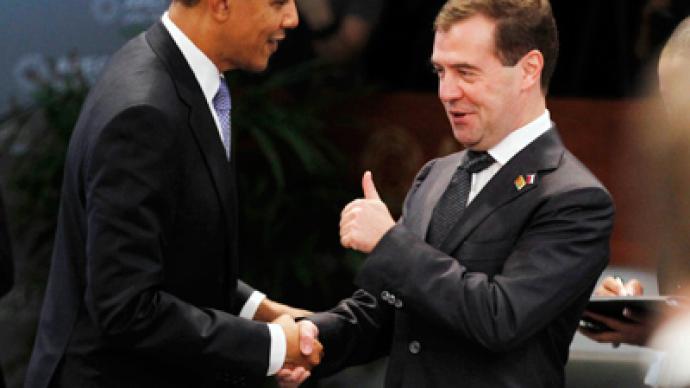 US President Barack Obama and Russian Prime Minister Dmitry Medvedev will have a bilateral meeting on the sidelines of a G8 summit in Camp David, according to a Russian daily newspaper.
The meeting between Obama and Medvedev "will be different from what was to be negotiations between the two presidents planned earlier.""It was assumed that a Russian-US summit would take place in Camp David, but Putin is not going to the US, and it has been cancelled," a Russian government source told Kommersant. "As for Medvedev, he is going there not for negotiations with Obama but to take part in the G8, although they will have a meeting on the summit's sidelines."The Kremlin press service announced last week that President Putin had decided not to travel to the United States to take part in the G8 summit, as the formation of the Russian government and personal appointments would not be completed by May 18-19, the dates of the event.Putin notified Obama in a telephone conversation that Medvedev would represent Russia at the G8 meeting."The American side has taken this information with understanding," the Kremlin press service said.Meanwhile, Putin and Obama have agreed to hold a full-format bilateral meeting on the sidelines of a G20 summit in Los Cabos, Mexico, on June 18-19.