Internal Ministry to reshuffle police leadership every five years
Published time: 14 Jun, 2011 07:41
Edited time: 14 Jun, 2011 13:28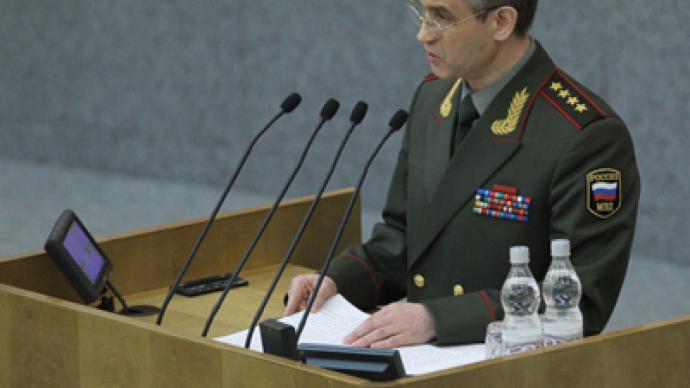 As part of measures to combat corruption, the Russian Interior Ministry will rotate its leadership once in every five years, the body's head Rashid Nurgaliyev has said.
The minister noted that the rotation is necessary for an exchange of positive experience and is also "an efficient mechanism for fighting corruption."
Under the new legislation that is currently being considered by the presidential administration, top police officials will be transferred to similar posts once in every five years. Nurgaliyev observed that such a reshuffle would help newly-appointed leaders to "get a fresh look at the situation, see the problems and define ways to settle them," cites RIA Novosti.
The interior minister said that 47 officials were transferred to other posts in 2010, and 31 have been reshuffled since the beginning of this year.
On June 11, President Dmitry Medvedev made several key personnel changes in the federal and regional departments of the Interior Ministry.
For instance, under the decree signed by the head of state, General-Colonel Mikhail Sukhodolsky was relieved from his post as first deputy interior minister and given the post of head of the Main Department of the Interior Ministry for St. Petersburg and the Leningrad Region, replacing discharged General-Lieutenant Vladislav Piotrovsky. Meanwhile, General-Colonel Viktor Kiryanov and Sergey Gerasimov were reassigned Deputy Interior Ministers and General-Colonel Aleksandr Smirnov was appointed deputy interior minister. Several high-ranking officials in the Krasnodar and Moscow Regions were dismissed.
Over a year ago, President Medvedev announced a wide range of changes aimed at making Russia's police work more effectively and be able to face modern challenges. A new "Law on Police" – the first ever legislation that was open for nationwide discussion on the web – was adopted earlier this year. As well as being renamed from "militia" to "police", the new, improved police force requires all its employees to be examined, so that only the best of the best could keep working.
Speaking on Tuesday, Nurgaliyev noted that the deadline for police officers to pass their exams was pushed back from June 1 to the beginning of August.