Moscow urges N. Korea to return to nuke non-proliferation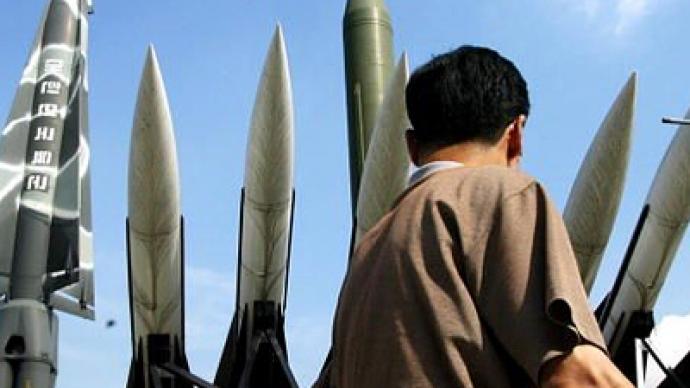 Russia insists that North Korea should come back to non-proliferation regime as a non-nuclear state, Russian Deputy Foreign Minister Aleksey Borodavkin has said.
Speaking at a media conference on Thursday, he said that the development of North Korea's peaceful nuclear program depends on Pyongyang returning to the non-proliferation regime stipulated by the Non-Proliferation Treaty and "the return of all of North Korea's nuclear activity to within the International Atomic Energy Agency (IAEA) guarantees," Interfax cites Borodavkin as saying.Borodavkin specifically underlined that the North Korea should come back to those regime as a non-nuclear state.Pyongyang's nuclear ambitions have for years now been a source of deep concern for the international community. Russia believes that any state has a right to use nuclear energy for peaceful purposes. However, currently North Korea's uranium program does not comply with earlier-achieved agreements, the Russian official said.On November 23, tensions between South and North Korea rose to their highest level in decades. The two bitter rivals exchanged artillery fire. Now the situation on the peninsula has relatively calmed down, but Russia is not being too optimistic, saying that new tensions cannot be excluded. Moscow though intends to keep working on finding a solution to the prickly issue."We still believe it would be appropriate to send UN Secretary General's special envoy to Seoul and Pyongyang," the deputy foreign minister said. Russia also believes that the multinational negotiations known as the six-party talks should be held as soon as possible. The talks aimed at dismantling North Korea's nuclear weapons program involve the two Koreas, Russia, Japan, China and the US. "We will work to help arrange this meeting next year," Borodavkin told the conference in Moscow. He added that it would still not be the revival of the six-party talks, rather preliminary work in that direction. Moscow has always insisted that the row should be solved through a dialogue rather than use of force. Russian diplomats urged the two rival states to stop flexing muscles and iron out their differences at the negotiating table instead."I cannot say that our signal yielded much result and we therefore had to appeal to the UN Security Council," Borodavkin said. He added that even though no consensus has been reached as a result of that appeal, both Koreas and all other sides to the six-party talks agreed that further escalation of the conflict would be unacceptable for the international community. Thanks to that "signal from the UN Security Council," it became possible to avoid new armed conflict.
Russia does not accept NATO policy on Afghan drug crops
Drug trafficking from Afghanistan – the world's largest producer of heroin – is seen by the world community as one of its biggest threats. But despite the deadly danger, politicians have so far failed to agree on methods of countering it. Russia insists that the elimination of opium poppy fields in the Islamic Republic would help to tackle the problem. NATO, for its part, refuses to do so, claiming that poppy crops remain the only source of income for the Afghan people. "[The coalition forces'] policy of non-destruction of drug crops is erroneous and must be reviewed," said Deputy FM Borodavkin, commenting on the issue. He admitted that using force only cannot be the only solution on fighting "this evil". In addition to that, Afghan peasants should be given an alternative way of earning money by cropping something else rather than opium poppies. According to the diplomat, co-operation between NATO and the Collective Security Treaty Organization (CSTO) in drug control could also achieve results. However, the alliance has so far not expressed its willingness for such co-operation. He added that the Shanghai Co-operation Organization (SCO) is actively combating drugs and expressed hope that next year the organization will adopt a drug control strategy.While diplomats are debating, drug smugglers keep transporting Afghan heroin into Central Asia, Russia, and Western Europe, people keep dying and drug dealers enjoy lining their pockets with billions of dollars.
Territorial row shouldn't hamper Russia-Japan relations
The deputy foreign minister has also touched upon Russia-Japan relations, which have been somewhat strained following President Dmitry Medvedev's visit to one of the disputed Kuril Islands, Kunashir, in November.The territorial problem should not undermine the dynamics of the development of the bilateral relations, Borodavkin said. "[Russia and Japan] are having a very intensive political dialogue," he said, cited by Itar-Tass. Both sides are keen to develop political, economic and humanitarian ties. In a bit to further develop the dialogue, Japanese Foreign Minister Seiji Maehara is expected to visit Moscow in February 2011. The exact date of the trip is yet to be announced. "Yes, there is a territorial dispute between our countries. Both Russia and Japan accept it. However, it should not undermine the dynamics of the development of our relations. If we manage to achieve significant results in economic and political ties, it would be a lot easier to sole the problem," Borodavkin said.