North Korea anticipates dynastic change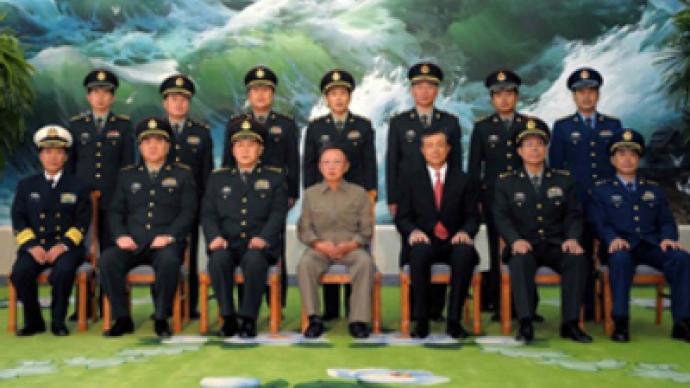 As the communist regime's ruling party prepares for its first meeting in a generation, speculation is rife that an ailing Kim Jong-il will begin the succession process with his youngest son.
Next Tuesday, international attention will be focused on what promises to be a grandiose assembly of the North Korea's Working Party, the first such meeting to be held in the nuclear-armed pariah state in 30 years.
The Korean Central News Agency delivered a short statement early on Tuesday announcing the "historic" meeting.
"The conference of the WPK [Workers Party of Korea] for electing its supreme leadership body will take place in Pyongyang on 28 September," the statement said.
During the rare congress, the WPK is expected to promote Kim's third son, Kim Jong-un, to a senior position. Many political observers believe that such an appointment would be tantamount to declaring him heir to his father, the reclusive man who North Koreans refer to as "Dear Leader."
It is widely believed, though never confirmed, that Kim Jong-il, 68, suffered a major stroke in 2008 that left him largely incapacitated.
History would suggest that changes are on the horizon for North Korea: Kim Jong-il himself got the power nod during a similar congress 30 years ago.
During the Sixth Party Congress in October 1980, Kim Jong-il was given senior posts in the Politburo, the Military Commission and the party Secretariat, thus becoming de facto leader of the Party. Two years later, when he was made a member of the Seventh Supreme People's Assembly, observers deemed him the heir apparent of North Korea.
He eventually became "supreme leader" after his father, Kim Il-sung, the founder of North Korea, died of heart failure in 1994.
Who is the next successor?
Even for an intensely secretive pariah state, the secrecy surrounding Kim Jong-un, who is said to be 26 or 27 years old, can only be described as incredible. More than anything else, the iron wall of information that conceals North Korea's heir apparent is a testament to North Korea's severe isolation from the modern world, where the daily barrage of news and images makes the very idea of a state secret seem like an anachronism.
The only thing that Western observers seem to know about Kim Jong-un is that he attended the English-language International School of Bern in Switzerland under a pseudonym, but even this detail is disputed. Kim Jong-il's youngest son has apparently never been mentioned in state media, and there are no confirmed photographs of him as an adult.
The only photograph of the younger Kim is a grainy black-and-white snapshot taken when he was reportedly 12-years-old.
To date, the most reliable source of information on North Korea's dynastic family comes from Japanese sushi chef, Kenji Fujimoto, who was Kim Jong-il's personal chef from 1988 to 2001.
Fujimoto published a memoir in 2003 entitled "I Was Kim Jong Il's Cook", which detailed his experiences with the North Korean leader and his young son, who is apparently being groomed for the top position.
In an interview on Japanese television, Fujimoto says that Kim Jong-un, "knows how to be angry and how to praise. He has the ability to lead people… also he loves basketball, roller-blading, snowboarding and skiing… I watched him play golf once and he reminded me of a top Japanese professional."
He has two older brothers, Jong Nam and Jong Chol. But the Japanese insider says it is the youngest son who is most similar to his father, tough and competitive even as a child.
Next week's congress comes as North Korea is preparing to celebrate the 65th anniversary of the founding of the Workers' Party on October 10. Meanwhile, tensions continue to simmer between Pyongyang and Seoul, as South Korea and the United States plan to go ahead with a joint naval exercise, despite protests from North Korea.
South Korea and the United States had planned a joint naval exercise from September 5 to 9, but it was delayed due to a typhoon.
This is just the most recent incident to aggravate relations between North and South Korea. In March, Seoul accused North Korea of torpedoing one of its warships, resulting in the deaths of 46 sailors. The North denied involvement and threatened retaliation.
Meanwhile, international leaders continue with their efforts to bring Pyongyang to the negotiating table over their nuclear weapons arsenal. North Korea has been subject to United Nations Security Council resolutions for carrying out missile and nuclear tests.
Now the question is whether the next leader of North Korea will be ready to enter dialogue with the international community, or will further its retreat into a world of isolation and suspicion.
Unfortunately, there is far too little information about Kim Jong-un to be able to make any reasonable predictions at this time. All the world can do is wait for the curtain to be drawn back on the opaque world of North Korean politics.
You can share this story on social media: