An eye for an eye: UR to beat opposition blogger at own game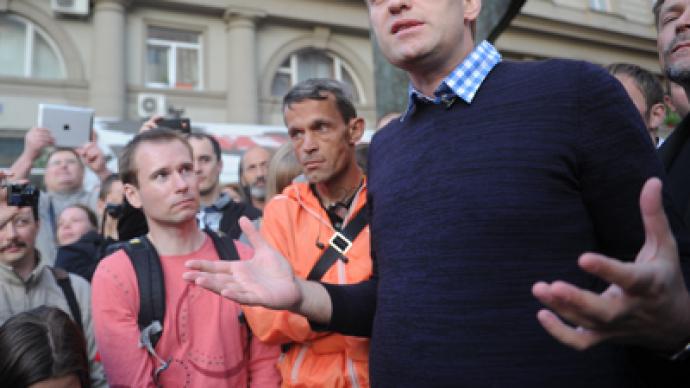 The United Russia party is going to make corruption whistleblower Aleksey Navalny accountable for insulting the ruling party and is planning to launch a website to file a collective lawsuit against the opposition blogger.
Navalny, the founder of the anti-graft RosPil web-project, was the first to call United Russia "a party of crooks and thieves," which has now become an epithet the opposition uses in referring to the majority party.The idea to launch a website to sue the blogger for insults was put forward by United Russia MP Vladimir Burmatov, writes Izvestia daily. The deputy says some time ago his party comrades appealed to him asking for help with filing claims. Burmatov invited lawyers who worked out a package of required documents, which were then uploaded onto a specially created internet portal. Now all Burmatov's party fellows need to do before bringing their lawsuits to court, "is simply print out (the downloaded documents), fill their names in and pay a duty," he said. The website also provides information on the number of downloads made. This will help Navalny calculate how much his "irrepressible tongue" will cost him, the MP pointed out. Earlier in June, a court in Moscow obliged the opposition blogger to pay 30,000 roubles (about $900) in compensation for causing "moral damage" to UR member Vladimir Svirid.The latter filed charges following Navalny's interview with Esquire magazine, in which he made unflattering comments about members of Russia's ruling party. The authors of the project hope that if all the members of United Russia – about 2 million people – file suits against Navalny, he might be fined 60 billion roubles ($1.8 bln). "Navalny insulted me and my colleagues in the party, including Heroes of Russia and Olympic champions," Burmatov told Izvestia. "I don't impose this initiative on anyone: those who want, will be able to file suits to defend their honor and dignity." If he wins the case, the deputy vows to spend his money on charity and proposes to his party fellows to do the same.The paper writes Navalny refused to comment on the news, saying he was too busy. The new web portal is currently working in a test version and is expected to be launched on June 13.
You can share this story on social media: