NATO head in Moscow for partnership talks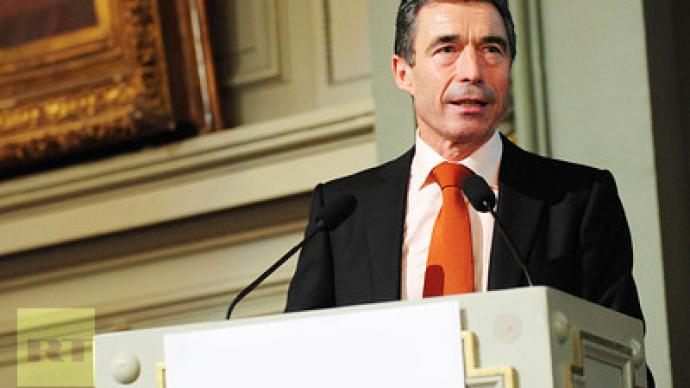 Combating international terror, beefing up global security, and deciding the future of national defense are the key issues Russia and NATO are working on during a visit to Moscow by NATO's Secretary General.
Anders Fogh Rasmussen has already met with Russia's Foreign Minister Sergey Lavrov and is to meet President Medvedev later on Wednesday.At a press conference following the meeting with Foreign Minister Lavrov, Rasmussen said he had made suggestions to Russia regarding co-operation on the missile defense system in Europe."I suggested today how we can organize this work. I hope we will come to a conclusion," he said.NATO's Secretary General pointed out it was reasonable for Moscow to ask questions regarding the defense system."It is quite natural to ask such questions. We don't want to force a certain architecture of the missile defense system on Russia. We must work it out together," he said.According to Rasmussen NATO's proposal does not envisage a merger of NATO's and Russia's missile defense systems into one common system. "What I envisage is that we have a NATO-based system and we still have a Russian system. What this is about is to co-operate. It is to make one security roof through exchange of information, exchange of data. I think we could make the whole system much more efficient if we co-operate. So both systems in a co-operative common architecture, that's how I see it," he said."Let's do some exercise testing our respective capabilities! This theater missile defense which aims at protecting our deployed troops can be expanded to a territorial missile defense that can protect all our population," Rasmussen said. "That's what we're going to decide at the NATO summit in Lisbon. And we would very much like to co-operate with Russia when it comes also to territorial missile defense."Officially, Moscow reacted warmly to this suggestion. "We have been partners in certain situations, but we have never had a strategic partnership between us," said Konstantin Kosachev, head of State Duma Foreign Affairs Committee. "I believe that both Russia and NATO need this type of strategic relationship in order to be more efficient in our efforts to combat common threats and challenges."The final decision may be made at the NATO-Russia Lisbon summit in November, although Rasmussen underlined there is no pressure on Russia to make this decision in a hurry. The NATO chief's Moscow visit is widely seen as a warm-up for the Lisbon summit.Russia and NATO are stepping up cooperation efforts in terms of defense strategy in Europe and conventional arms control.The problems currently discussed by Russia and NATO are NATO's blueprint for global security, which the Kremlin wants to reflect Russia's own security concerns, and the implementation of the new missile defense plan in Europe, in which Moscow wants Russia to play a prominent part.Another important issue on the agenda is the war in Afghanistan, where NATO is seeking Russia's help. While Foreign Minister Lavrov said on Monday that Russia would not send soldiers to Afghanistan, Russia is definitely going to take part in operations against drugs trafficking, similar to the one carried out last week.Interestingly, shortly after his arrival in Moscow, Anders Fogh Rasmussen wrote on his Facebook page that the time has come for a start of new relations between Russia and NATO, and that NATO sees Russia not as an enemy, but as a strategic partner.According to political analyst Andrey Baykov, NATO and Russia are progressing towards co-operation on a selective basis, in areas where they share interests. The problem of drugs from Afghanistan, however, is a case where NATO does not share Russia's concerns, he points out."I don't think that Brussels has the same concerns that Russia has, because Brussels realizes that drugs is probably one of the pillars of Afghan economy, and if we continue to fight drugs at a very high speed, we'll just end up having no Afghan economy at all, which will lead to a bigger economic catastrophe in Afghanistan. I think they are trying to produce an impression that they are heeding Russia's concerns, but in fact I don't think our positions are nearing [each other]," Baykov said.
Dmitry Trenin, head of the Carnegie Moscow Center, believes that the joint missile defense project is the project that has the potential to transform the entire Russian-Western relationship."The [current NATO] Secretary General is a champion of joint missile defense, of Russia's co-operation with NATO on missile defense. He made that statement doing his first speech on Russia – his first major speech on any issue that he made in September last year under the auspices of the Carnegie Endowment. Basically you need to realize that no amount of strategic arms reductions and limitations can transform [the] Russia-NATO, Russia-West and Russia-US relationship[s]. One needs to have a strategic collaborative project. Missile defense is the one thing – the silver bullet. It is a game-changer or, if it fails to seize upon that, it could be a game-breaker," he says.
You can share this story on social media: